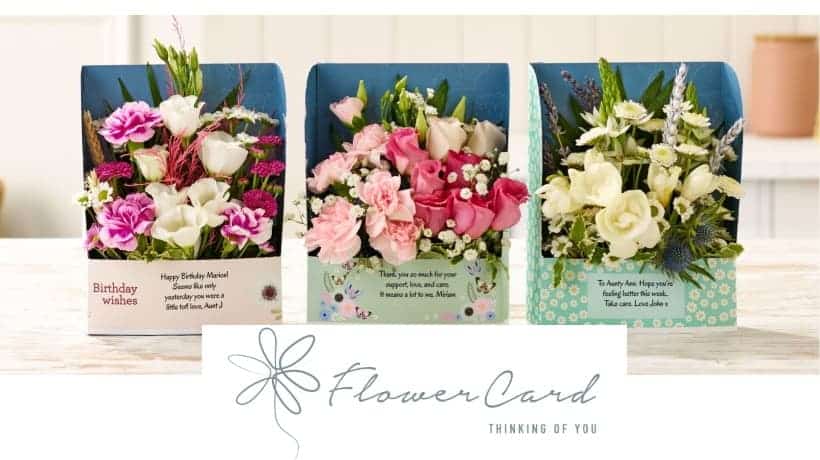 FlowerCard Police Discount
A special occasion, showing gratitude, or visiting someone recovering from an accident or disease require a gift. And no gift is complete without a card. When it comes to choosing, there are literally hundreds of models out there. But why go for a standard one when you can stand out with a FlowerCard?
A concept launched in early 2000, the FlowerCard boasts over 20 years of experience in delivering unique flower cards to your door.
Designed for every occasion, the original cards are filled with fresh flowers, and you can choose from a variety of inspiring ideas. Apart from personalised gifts, the brand also provides flower arranging and corporate gifts, making it a good choice for weddings and events.
FlowerCard Gift Types for Police Families
FlowerCard aims to help you deliver a unique gift for every occasion, and proposes a wide range of gift types. The most popular are the original flower cards, consisting of a small bunch of flowers paired to a designer card.
Cards are designed by British artists in collaboration with professional florists and stylists, ensuring the elegance of each piece.
Since each card is handmade with fresh flowers, it's useless to say that each is original. Furthermore, each card can be personalised to your liking. Cards apart, you can also choose from a range of flower cups and boxes, flowers in tins, and flowers in books.
Apart from these arrangements, the brand's letterbox flowers are a perfect choice for those who want to send a gift by mail.
FlowerCard Perks
The FlowerCard proposes original choices, and each item is unique. Thus, it doesn't come as a surprise that it doesn't propose a wide range of perks. After all, choosing such a card is a perk already, considering they don't have excessive price tags.
But that's not it. Besides an original card, you'll also get express delivery for just £6. Next day delivery is available at a small extra cost, and you can send the card at home, at work, or at a hospital.
Flowers apart, you can complete your wish with chocolates, organza butterflies, or other accessories.
A newsletter may provide occasional discount codes, and you'll be the first to know about new gift releases and ideas. Orders can be made by phone 24 hours a day, or via live chat during weekdays, from 8 am to 4 pm.
The brand also practices a 100% money-back guarantee if the receiver doesn't like the card. Last but not least, you should also know that you can get 10% off your first order.
Our Verdict for Police Officers and Families
FlowerCard is undeniably your best bet if you're looking for an original card to pair your gift with. From birthday cards to thank you notes, wedding arrangements, and flowers in a cup or box, the brand is living proof that you don't have to be afraid to be different. An excellent choice to surprise your beloved ones.
Make sure you use our police discount code shown above to save on your next arrangement of flowers!