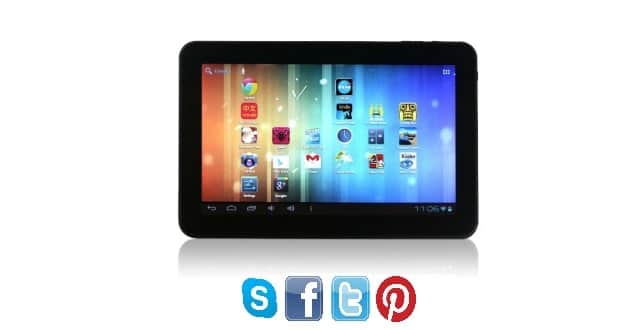 [offer_product]
Looking for a new tablet and don't want to shell out hundreds of pounds on an Apple product, well you have come to the right place. This Android Tablet will have everything you need.
The screen is 10.1 Inch with a resolution of 1024×600, which means good HD viewing!
The internal storage has a whopping 16GB to play with, allowing you to store your favourite films, music and photos onto the device. If that isn't enough then tehre is a micro SD card slot which means you can add another 32GB worth of data onto the tablet.
It will perform significantly well for you to browse the internet, watch movies, play music and a whole host of other activities. This is all run with a Dual Core processor and 1 GB of DDR3 memory. (You need at least 1GB of memory).
If you need to link your tablet to a Bluetooth device, perhaps Bluetooth speakers, then this Android Tablet will do just that.
There are two cameras one front and one back, so you can take pictures and also Skype your friends.
You will have access to Google Play Market where you will be find thousands of Apps to download.
You will get 12 months full warranty.
And to top it all off it has the most recent 4.2.2 Android Jelly Bean Operating system.
Basically you cant go wrong for the price. For under a hundred pounds it will run games, do email, watch films, play music, Skype Friends, Bluetooth function, view office documents and much much more. There is currently free delivery, so be quick, be sensible and get yourself this fully functional and competent Android Tablet today.