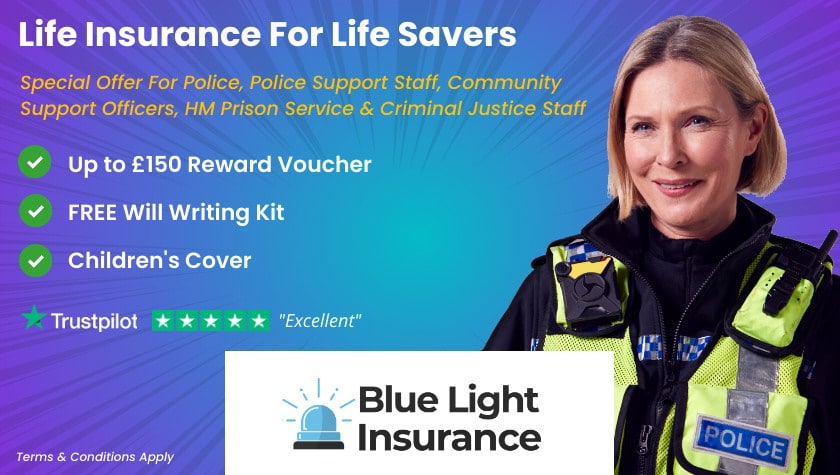 15% Off Blue Light Insurance
Get insurance at a discounted price through us today.


Blue Light Insurance – The Emergency Services Insurance Experts.
Here at Blue Light Insurance, we specialise in getting fantastic discounts, deals and rewards for members of the Emergency Services when it comes to arranging their insurance.
Over the years we've become a household name for members of the Police, NHS, Fire Service, Armed Forces, Prison Service, Civil Service, and other Emergency Services and have helped thousands of people save money!
We've been consistently rated as "excellent" by our customers and have amassed hundreds of 5-star reviews on Trustpilot for our work.
The products we specialise in are Life Insurance, Critical Illness Cover, Income Protection Insurance, Mortgage Protection and Private Medical Insurance. Through our sister company we are also able to offer great deals on Mortgages, Will Writing and Trusts.
We work with the majority of the UK's insurers, meaning we can compare the whole market to find you the right insurance policy – one that isn't just cost-effective, but one that also takes account of the unique and sometimes risky aspects of the jobs people in the Emergency Services sector undertake.
Through Police Discount Offers, you and your family can get Life Insurance, Critical Illness Insurance, Income Protection and Mortgage Protection quotes with up to 15% discount, up to £150 Reward Voucher, a FREE will writing kit and children's cover included.
We don't charge any fees for our services, and all quotes are 100% no obligation. So don't delay – get in touch with the team today and see how much we can save you!
Terms and conditions:
£150 Reward Terms & Conditions: When you take out cover through Blue Light Insurance Solutions you are eligible for our voucher reward offer. The voucher can be spent at hundreds of different retailers. The retailers on offer is liable to change. The amount of your voucher is calculated by the size of your first monthly insurance policy premium, rounded up to the nearest whole number. For example, if your policy premium was £49.50 per month, you would get a voucher reward worth £50.00. The voucher reward is payable only when your policy goes active and is paid 3 calendar months after your policy start date. Maximum voucher reward per postcode is £150.00. Voucher codes expire after 12 months. If you allow your policy to lapse, or if premiums are unpaid prior to the intended voucher issuance date, then the voucher will be withheld until the policy payments are brought up to date. If for any other reason the insurer removes your policy from "active status" before the intended voucher issuance date, the voucher will be withheld until the policy is "live" again.
15% Discount: By default, we will apply a 10% "commission sacrifice" to your quotes, thereby reducing the amount we get paid by the insurers and reducing your monthly premium. In the unlikely event you have been quoted a cheaper price for the same cover with the same insurer, we will increase our commission sacrifice to 15% thereby decreasing your monthly premium further in an effort to provide you with the best possible price.
FREE Will Kit Terms & Conditions: In the event you purchase a policy through Blue Light Insurance Solutions you will be eligible for a free will writing kit. Upon request we will send a will writing kit to you in the post no later than 14 working days following such request. Only one will kit available per postcode. Will writing is not regulated by the Financial Conduct Authority.
How children's cover works: If you choose a policy which includes Adult Critical Illness Insurance then a large number of our insurers will include children's critical illness cover for no extra cost. Children's illness cover is not included as standard on Life Insurance only policies, Income Protection policies or Private Medical Insurance. Please speak to your adviser and refer to the policy terms and conditions for more information.