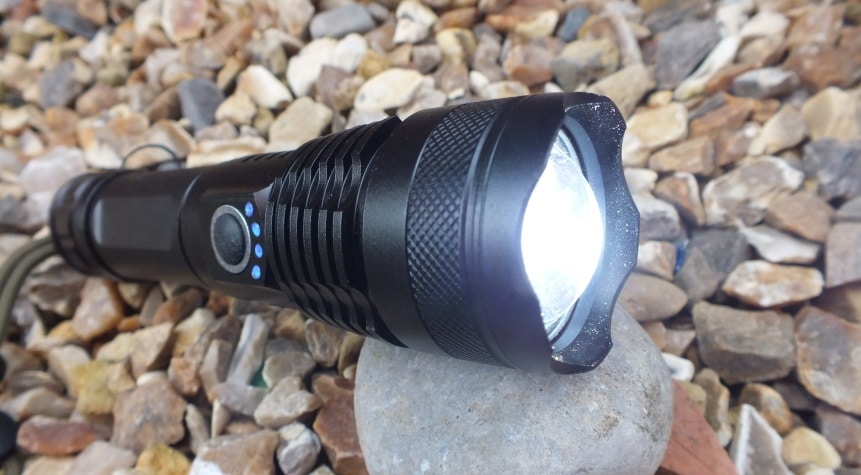 Buying Options for the XPH50 Tactical Torch:
XPH50 Torch for Policing
Here is the latest Police Torch to land at Police Discount Offers. This is a bargain torch for the price as it has a great professional look and feel, plus the brightness is really great and anyone who purchases the torch won't be dissappointed.
I have put together a video review to show you how it works, what you get in the box and give you an idea of if you believe it's worth purchasing.
PROS:
Sturdy, Well made Torch
Zoom Function
Bargain for the Price and Brightness
Rechargeable
CONS:
Some sites mention 3000 lumens, it's more like 1000 lumens.
What do you get with it?
The XPH50 torch comes in a tough plastic box which keeps the torch nice and secure. Inside you get the Torch, Belt holder, Charging cable and separate battery holder. This battery holder allows you to use AAA batteries if you don't want to use the rechargable one provided.
You also need to check what is with the box as there are several different variations that businesses offer, for example some torches are not provided with a box.
How to use the XPH50
The torch itself is very easy and simple to use. There is only one button which once pressed cycles through the different modes. These modes are HIGH, MEDIUM, LOW, STROBE and SOS.
Once you receive the torch you will have to charge it first, which took me several hours. The charging port is located on the side of the torch and covered with a rubber cap. Just remember that once you've finished charging you place the cap back onto the charging port to make it water resistant.
The XPH50 is equipped with a zoom function, which is activated by pulling the head of the torch forward (See video for full details). This then pin points and focuses the beam into one smaller source, this then allows the light to travel that much further. I believe we got up to between 120 metres – 140metres (roughly) when tested.
Conclusion
This torch is quite impressive for the price. It boasts (on some seller sites) 3000+ lumens, but this isn't the case. It is however at least a 1000 lumens which is actually very impressive anyway!
It provides you with a throw of around 150metres of light when you use the zoom function and has the 5 modes.
It also comes with the belt holder, which is ideal for people who wear duty belts. It is unlikely that you could fit this into a trouser pocket.
Take a look at the video and see what you think.