Mil-Tec Bundeswehr Mountain Police Boot – Perfect for Rain and Cold Weather
Mil-Tec Bundeswehr is perhaps the best police boot for cold weather and rain. Made of premium quality leather and featuring convenient lace-up closure, it can satisfy most needs. Despite its insulation, the material is breathable enough to ensure comfort in a warmer temperatures, too. Wondering if this is the best police boot for you? Let's find it out.
Buying Options for Mil-Tec Bundeswehr Mountain Police Boots:

£78.50
in stock
4 new from £78.50
as of 13th August 2022 12:30 pm
Outstanding Weather Resistance
As any law enforcement officer knows, police boots should resist whatever the weather is throwing at them. Surprisingly, though, many brands make boots that are only water resistant, not fully waterproof. If you're looking for a boot that won't leak in water and designed to keep your feet dry even in a storm, the Mil-Tec Bundeswehr mountain boot fits the bill.
This model features a resistant upper made of premium quality full grain leather. You won't get to choose from a whopping variety of colours, but the dress code probably requires you to wear black footwear anyway.
The material is particularly soft, so you can expect it to hold up beautifully for years. A lace-up closure is also very practical. You won't get a side zip for easier on and off, but at least you'll have the chance to fit these boots as tightly as you like around your ankle.
Another highlight is the DINTEX membrane on the inside. This layer of waterproof and windproof insulation makes the boots perfect for rain and cold weather. Yet, the fabric is breathable enough to prevent sweating on warmer days.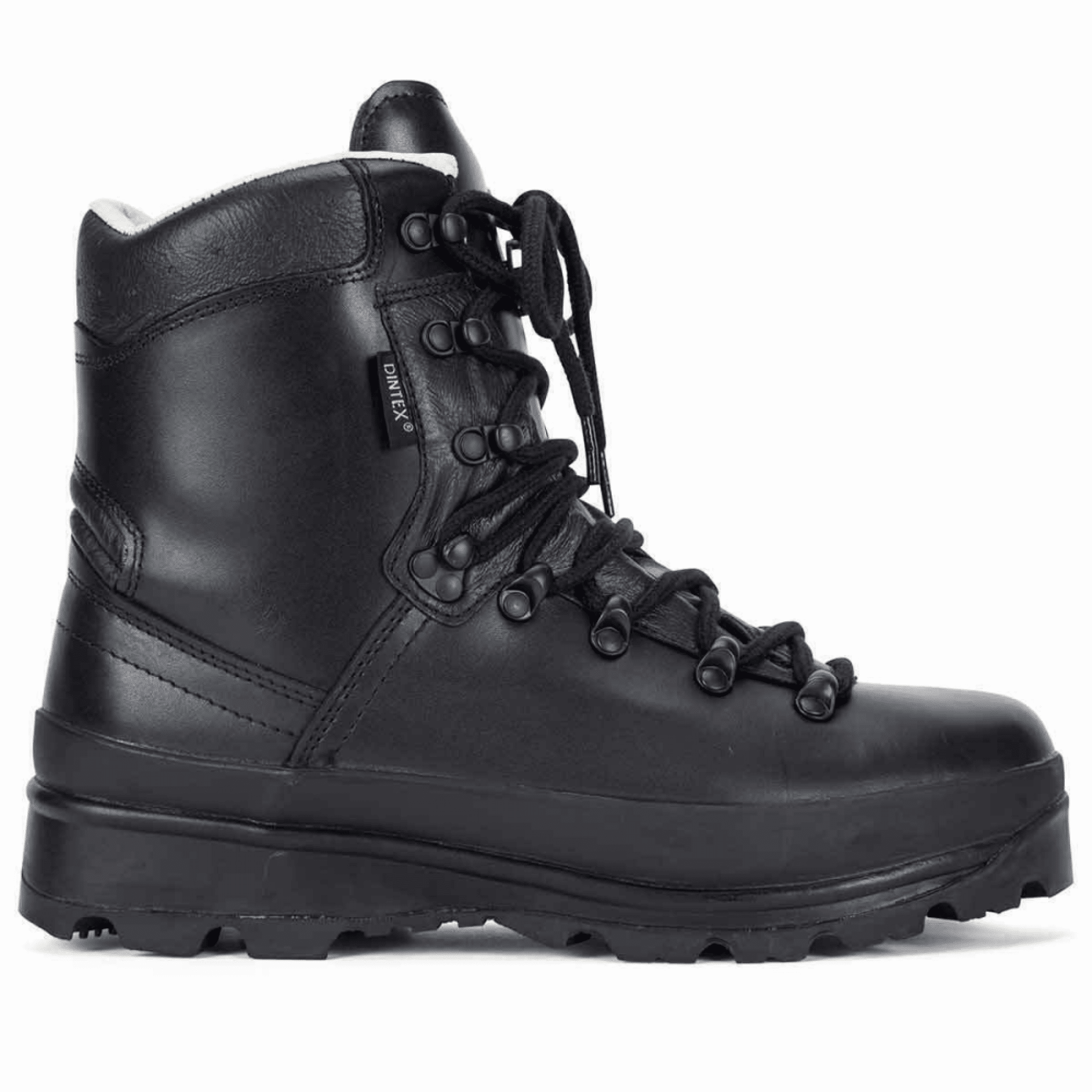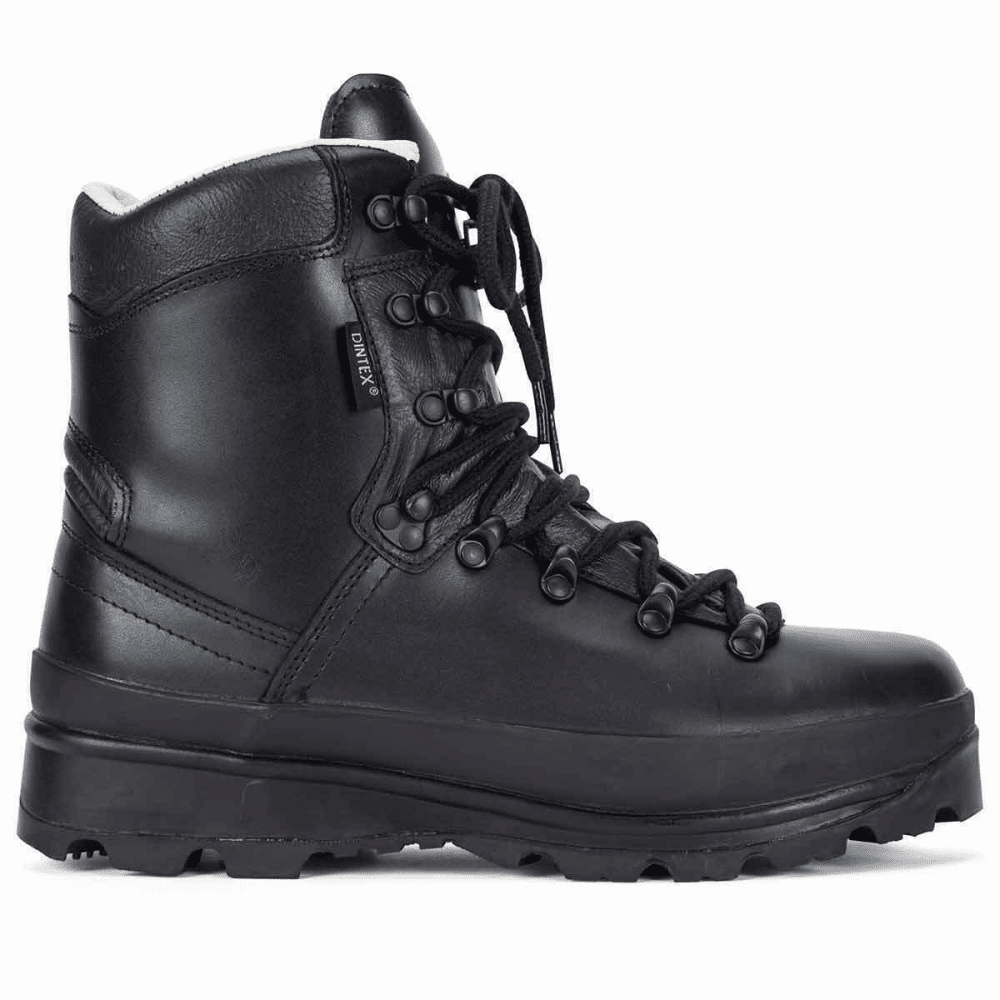 Extreme Comfort with the Mil-Tec Bundeswehr Mountain Police Boots?
Standing on your feet for hours on end is a cinch in these boots, all thanks to the insoles designed to cradle your feet.
The anatomically shaped POLIYOU insole provides adequate arch support, helping prevent impact injuries and work-related issues such as plantar fasciitis or tendinitis. Particularly useful is also the moisture-wicking, anti-odour layer that keeps your feet dry and fresh throughout the day.
Good Traction and Shock Absorption
Last but not least, these boots impress with excellent traction. They feature rubber soles with deep treads that deliver stability on all terrains. Traction apart, the rubber soles also enhance durability and resistance At the same time, the thick midsoles improve shock absorption and cushion your feet from impact shocks, no matter what you're up to.
Our Verdict on the Mil-Tec Bundeswehr Mountain Police Boot
Mil-Tec Bundeswehr Mountain Boots are an excellent choice if you're looking for a quality option that won't break the bank. Perhaps they won't last as long as top tiers like ALTBERG, but you'll undoubtedly get at least a couple of years of good use – more than most police boots would last.
They tend to run a bit small and are not suitable for people with wide feet, but once you've got your match, these boots are truly comfortable and lightweight.
With an attractive price tag, you can typically grab a pair without spending more than £80. So, what are you waiting for? Check them out right now and see if they could suit you.


Up to 30% Off – Mil-Tec Bundeswehr Mountain Police Boot