Magnum Strike Force 8.0 – A Top Quality Yet Affordable Police Boot
Magnum Strike Force 8.0 is a first from the brand. It was designed in response to customer requests for a lace-up boot with side zip closure, but the technologies it incorporates add many more advantages. All nicely wrapped at a more than affordable price tag. Let's check it out.

£86.36
in stock
9 new from £86.36
as of 2nd July 2022 2:34 am



Outstanding Comfort
Staying on your feet for hours on end seems easier when you're wearing comfortable footwear, and Magnum Strike Force 8.0 delivers exactly that.
New technologies incorporated in the boot construction deliver all the shock absorption and stability you'd expect from a high-end product.
The first thing we should mention is the proprietary Recoil midsole which gives around 40% more rebound compared to standard EVA midsoles. In simple words, each step you take is more cushioned, protecting your joints and delivering more comfort and performance.
Recoil midsole aside, the Strike Force 8.0 also incorporates EXOgel technology. Like the Recoil, EXOgel is proprietary to Magnum. Developed at London's Imperial College, this revolutionary energy absorbing material is placed all around the ankle, increasing joint protection and stability. Lightweight and flexible, this shield allows for a full range of motion and excellent dexterity whilst protecting this delicate area from impact injuries.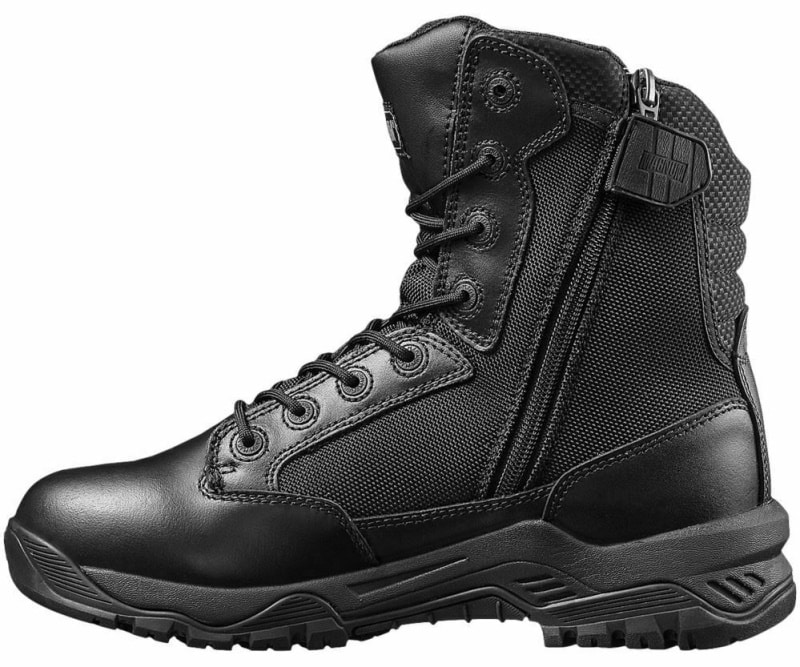 Breathable yet Waterproof
Fabric boots are known for their poor water resistance, but that's not the case with the Strike Force 8.0. This boot features a dual upper made of leather and waterproof mesh – a combination of materials perfect for keeping your feet dry in all kinds of weather.
Another highlight in this department is the side zip closure. If you've ever worn boots with zip closures, you might know that the zipper portion is almost never fully waterproof. Thus, it comes as a surprise that Magnum equipped these boots with fully waterproof zippers. No leaks means happy feet even in the heaviest rain.
Unrivalled Traction
Have you ever wished your boots had the same traction as Michelin tyres? If yes, know that that's exactly what Magnum Strike Force 8.0 delivers.
In partnership with Michelin, Magnum equipped these police boots with soles made of Michelin rubber, a material known for its exquisite grip and adherence. But that's not it. The anti-slip tread pattern was inspired by Michelin's Power Rain and Alpine Pilot tyres. This can only mean one thing – you can wear these boots on all kinds of challenging terrains without worrying about slipping over.
Attractive Price Tag
New technologies often make wallets cry, but luckily, Magnum didn't add an eye-watering price tag to these premium quality boots. Prices may vary from one store to another or depending on the actual size of the boot, but it's unlikely to pay over £130. Plus here at Police Discount Offers we even have a deal for you! Check out this discounted offer and grab your pair of Magnum Strike Force 8.0 today.


Magnum Strike Force 8.0 – Discount and Best Offers!