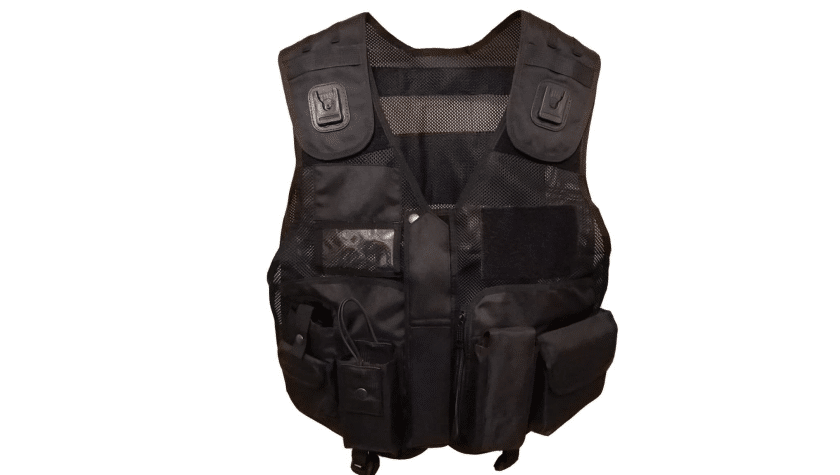 The Ultimate Guide to Police MOLLE Vests for UK Officers
In the dynamic world of law enforcement, a police MOLLE vest is more than just a piece of clothing—it's a mobile command center. It's crucial for UK officers to have a vest that can carry all their necessary gear, from radios and handcuffs to medical supplies and magazines.
What is a Molle Vest used for?
A MOLLE (Modular Lightweight Load-carrying Equipment) vest is utilized for carrying essential gear and supplies in a highly organized and accessible manner. It is commonly used by military personnel, law enforcement officers, and outdoor enthusiasts. The system features rows of heavy-duty nylon stitched onto the vest to allow for the attachment of various MOLLE-compatible pouches and accessories.
This modularity enables the user to customize the vest for specific needs, such as ammunition, medical kits, communication devices, and hydration packs. The design aims to distribute weight evenly, providing comfort and mobility during extended wear. The versatility of the MOLLE vest makes it an indispensable tool for efficiently managing equipment in challenging environments.
What Molle Vest is worn by Police?
In the United Kingdom, police officers typically wear a variety of vests depending on their specific duties and the level of threat they are facing:
High-Visibility Operational Vests
These are common for general duty officers and are worn over their uniform. They are designed with bright colors and reflective materials to ensure officers are easily seen, especially at night or in low-visibility conditions.
Stab Vests
UK police officers often wear stab-proof vests to protect against edged weapons. These vests can also offer some level of ballistic protection.
Tactical Vests
For officers engaged in higher-risk operations, such as firearms officers or those in specialized units like the Territorial Support Group (TSG), tactical vests with additional ballistic protection and carrying capabilities are standard. These would often have the MOLLE system for attaching equipment.
Body Armour
Depending on the role and the situation, some officers may wear body armour that can provide both stab and ballistic protection. This type of vest is more likely to be worn by officers in roles where there is a perceived higher risk, such as counter-terrorism units or diplomatic protection.
Plainclothes or Undercover Vests
Detectives or officers in covert roles may wear vests that are designed to be worn under clothing for a more discreet form of protection.
The type and style of vest can vary between different police forces within the UK, and there is ongoing evolution in the design to improve officer safety, comfort, and functionality.
What do Police Carry on their Molle Vest?
A police vest in the UK is equipped with essential gear for daily duties. The typical loadout includes a radio for communication, handcuffs for detaining suspects, and an extendable baton for self-defense.
Officers carry CS or PAVA spray as a non-lethal option, a flashlight for low-light environments, and a body-worn video camera to record public interactions. They also have a personal first aid kit, protective and search gloves, a notebook and pen for documentation, and evidence or property bags.
Knife-resistant gloves may be included for added safety during searches, along with leg restraints for managing violent individuals. Access to a mobile data terminal allows officers to check databases and file reports on the go.
A utility belt might also be present, which can hold keys, tools, or medical supplies, along with personal items like water and snacks for long shifts, and additional clothing layers for comfort. Officers in specialized roles, such as firearms units, would also carry relevant weapons and ammunition.
The vest's design ensures that equipment is distributed evenly to minimize fatigue and maintain mobility.
What is a Molle Harness?
A MOLLE (Modular Lightweight Load-carrying Equipment) harness is a type of tactical gear used primarily by military and law enforcement personnel. It is a lightweight harness or vest that features a webbing system of rows and columns composed of heavy-duty nylon stitched onto the vest.
This MOLLE webbing allows for the attachment of various pouches, accessories, holsters, and other gear using straps or clips. The design of a MOLLE harness is such that it can be customized for different missions or operational needs, enabling the wearer to carry equipment in a highly organized and accessible manner.
The MOLLE harness is prized for its modularity, which allows users to configure their loadout specifically for the task at hand, whether it's a combat mission, a search and rescue operation, or a routine patrol. The system is designed to distribute the weight of the carried equipment evenly, reducing fatigue and improving the user's mobility.
MOLLE harnesses are also typically made with durable materials suited for harsh environments and have adjustable straps to fit different body sizes and shapes comfortably.
What Police Molle Vests are avaliable to purchase or upgrade?
Whether you're buying from Amazon or eBay, you'll find a MOLLE vest that suits your needs as an officer. Here's a rundown of the top 8 MOLLE vests available online.
Condor Ronin Tactical Police Carrier Vest :
The Ronin is designed for flexibility and mobility, offering a comfortable fit without compromising on the ability to carry essential gear​​.
Pros: High customer rating, comfortable fit, and flexibility.
Cons: May not include all the pouches needed for police equipment.
OneTigris FYR Tactical Vest MOLLE Quick-release Plate Carrier:
This vest is lightweight yet rugged, made from 500D nylon, perfect for training or operational needs​​.
Pros: Lightweight, durable, and quick-release functionality.
Cons: Designed for airsoft, may not be suited for all police operational needs.
ProCase Airsoft Tactical Vest :
A gift-worthy option that's versatile for paintball, hunting, or SWAT team simulations, complete with magazine pouches and pistol holsters​​.
Pros: Versatile with magazine pouches and pistol holster, great for a variety of uses.
Cons: Airsoft focus might not translate to real-world police durability requirements.
EMERSONGEARS Tactical Airsoft Vest :
This vest offers quick-release functionality and is made from 1000D nylon, ensuring durability for the most demanding situations​​.
Pros: Made from 1000D nylon for extra durability, quick-release feature.
Cons: Higher price point, may be overbuilt for non-combat police roles.
Protec Modular MOLLE Tactical Security MOD Vest:
Suitable for a range of law enforcement roles, this vest is adaptable for firearms officers, dog handlers, and more​​.
Pros: Highly adaptable for different law enforcement roles.
Cons: Modular design may require additional purchases to fully equip.
Condor VAS Modular Panel Webbing MOLLE Upgrade Platform:
This upgrade platform allows for customization and additional equipment storage on your current Police MOLLE vest​​.
Pros: Allows for extensive customization of existing vests.
Cons: Only an upgrade platform, not a complete vest solution.
Protec Advanced Security Search and Rescue Utility Tactical Vest :
A vest that's as suitable for search and rescue operations as it is for general police work, featuring high visibility and modular design​​.
Pros: High visibility and a modular design suitable for various tasks.
Cons: Specific to search and rescue; may not carry all police gear.
Mehler Vario MOLLE Tactical Body Armour Stab Vest :
This body armour vest comes with ballistic plates and is designed for stab protection—a critical feature for high-risk operations​​.
Pros: Stab protection with ballistic plates, high level of safety.
Cons: Can be heavy and bulky, potentially less comfortable for extended wear.
Purchasing a police MOLLE vest from these various online platforms offers not just variety but also the convenience of comparing different models and prices. Moreover, eBay and Amazon customer reviews provide real-life insights into the vests' performances.
When selecting a MOLLE vest, it's also essential to consider the range of police equipment that needs to be carried. The vest's layout, the ease of access to compartments, and the overall comfort can greatly impact an officer's efficiency and response time in critical situations.
Maintaining a Police MOLLE vest is straightforward. Regular checks and cleaning keep it functional and ready. Always replace any damaged pouches or attachments immediately to ensure that your vest remains a reliable part of your kit.
In summary, a police MOLLE vest is an investment in your safety and effectiveness on the job. With the options available online, UK officers from all police ranks can find the vest that best meets their operational demands and personal preferences. Choose wisely, stay equipped, and stay safe.