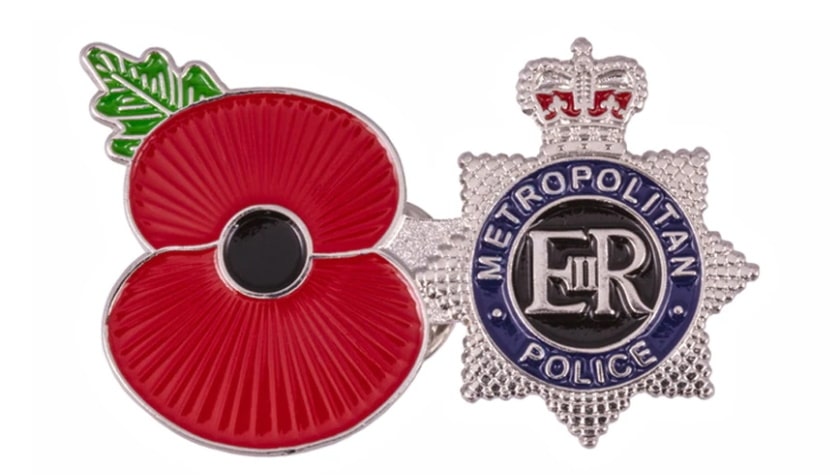 Met Police Poppy Badge
Show your support to the cause all year round with these lovely Met Police Poppy badge
One organization that police officers should support is the Royal British Legion. Here's why.
The Royal British Legion does a lot of good work to help veterans and their families. Many police officers are veterans and often join the police and especially the Metropolitan police. However there are many veterans aren't so lucky and need personal support and financial guidance.
The Legion provides financial assistance and housing assistance to veterans who need it. They also offer career advice, counseling, and other services to veterans and their families. By supporting the Royal British Legion, we can help these people get the support they need.
The Service Poppy Pin is the perfect way to show your support for the men and women who have served in the Metropolitan Police Service and support veterans across the UK.
This metal pin badge features the Met Police crest and poppy, and is a beautiful way to commemorate their service and sacrifice. Wear it with pride 365 days a year, and know that you are supporting a great cause.
FAQ's for Metropolitan Police Service Poppy Badge
Is there FREE delivery?
The Poppyshop know you want your purchases as soon as possible, which is why they offer fast shipping on all orders. All of our products are shipped with standard delivery within 3-5 working days and it's free for any order over £40 or less! If it's under £40 then there is a £3.99 charge.
Is there a Police Discount in the Poppyshop?
Currently there is no discount code available for your purchase in the store. If one does become available then it will be listed on this page.
How to use the Royal British Legion Discoun code?
If you are in possession of a discount code for the poppyshop then it's ismple and easy to use. When you get to the checkout there is a box to place your discount code into. Copy and paste it into the box and the price will be amended accordingly. Please note you can only use one discount code at a time.
Can you donate without purchaing the Metropolitan Police Poppy Badge?
Of course you can! If you go to their website and use the donation function which is located at the bottom of the website page. Enter the amount you want to donate and follow the paying instructions.