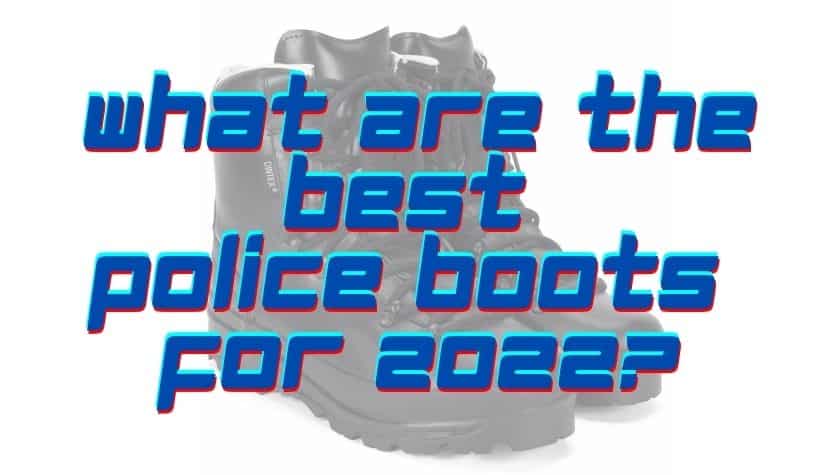 Combat boots are slowly becoming a fashion trend in recent times. But when you're an officer, comfort and performance come before looks. You might already know what you want from your footwear, but finding the best police boots is still challenging. Whether you want to replace your worn-out pair or shop for the very first police boots in your life, we are here to stop you from fretting. The carefully curated list below can help you pick the perfect Police Boots for 2022.
When choosing your best police boots for 2022 make sure you take into concideration the following things – Waterproof, Traction, Closure (zip or lace) and price. The price is important because even if the price is low, it might not be the best investment for your money. Some of the boots listed below can be found on the amazon store which means you can take a look at the reviews to give you an idea of how they perform.
Also remeber that Magnum have provided Police Discount Offers with an exclusive 25% discount on their boots which are bought direct from their website. This means that they come with a quality guarantee and will replace your boots if there is any problems or issues.
What Is the Difference Between Regular and Tactical Boots?
The main difference between regular and tactical boots is that the latter is designed to handle tough situations.
Tactical boots are made of durable yet lightweight materials. Foam midsoles and padded collars deliver comfort, shock absorption, and the support necessary for carrying out demanding tasks.
Design-wise, tactical boots are generally made of waterproof yet breathable materials, whereas regular boots may not be waterproof.
Most tactical boots are designed to wear in all kinds of weather and temperature. They have moisture-wicking liners and interiors treated with antimicrobial agents to prevent odours.
Tactical boots come with numerous advantages, including:
Breathability: These boots are designed to keep your feet dry regardless of the conditions. You can wear them in the rain or under the scorching sun without worrying about your feet getting all sweaty or damp.
Flexibility: Tactical boots allow you to walk, run, jump, and perform any policing tasks in all comfort.
Slip resistance: All tactical boots have rugged outsoles with lugs that improve traction on all terrains.
Quiet soles: As a police officer, you likely know that stealth and discretion are sometimes important weapons. Tactical boots have quiet soles that allow you to approach suspects without drawing attention to your presence.
Resistance: Another advantage is that tactical boots are built to last. Most models provide comfort from the first wear or require minimal break-in. The leather uppers require minimal care and resist elements without cracking. The same is true for the outsoles, designed to withstand harsh conditions and heavy use.
What To Look For When Choosing the Best Police Boots?
The best police boots are all designed to last, but there are a few features you might want to consider before buying:
Materials: You can choose from leather, hard-wearing mesh, or combo uppers that have both leather and mesh elements. The former is a better choice for the winter, whereas mesh uppers are more breathable for the summer. Combo uppers provide the best compromise for an all-season boot.
Weight: There is one thing to keep in mind – the lighter the boot, the more comfortable it will be during those long shifts.
Closure: Lace-up closures ensure a custom fit. Zippers make the boots easier to slip on when you're in a hurry. Boots with front laces and size zips are the best choice.
Fit: Consider your needs when buying. Do you have wide feet? Do you suffer from plantar fasciitis or other foot conditions? How much arch support do you need? Answer those questions to know what to look for in terms of fit.
Price: Lastly, consider the price but don't compromise on quality to save money. Every product above offers reliable quality at different budges, so you can find the best police boots for you.
Best Police Boot Reviews
1. Under Armour Micro G® Valsetz Leather Tactical Boot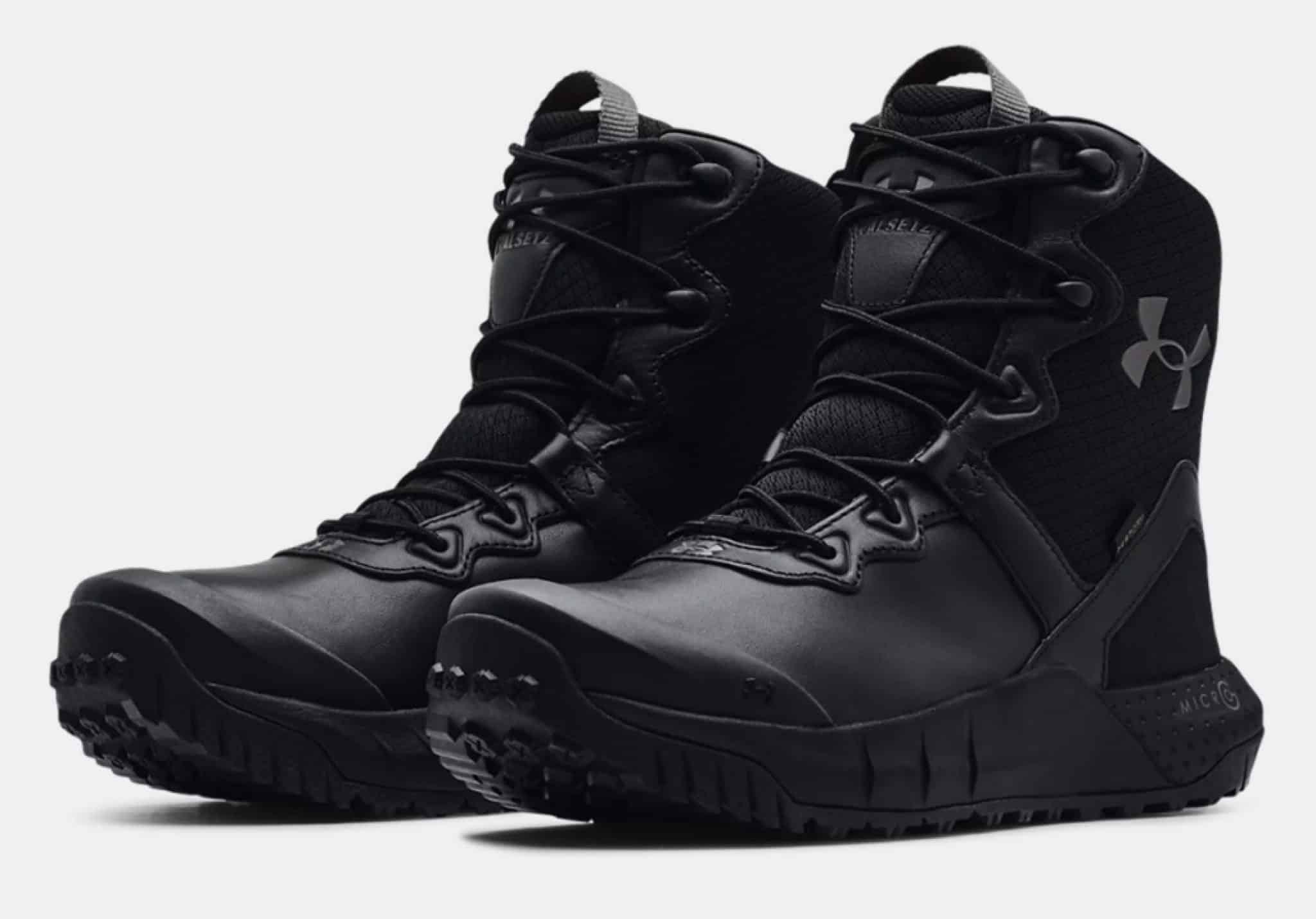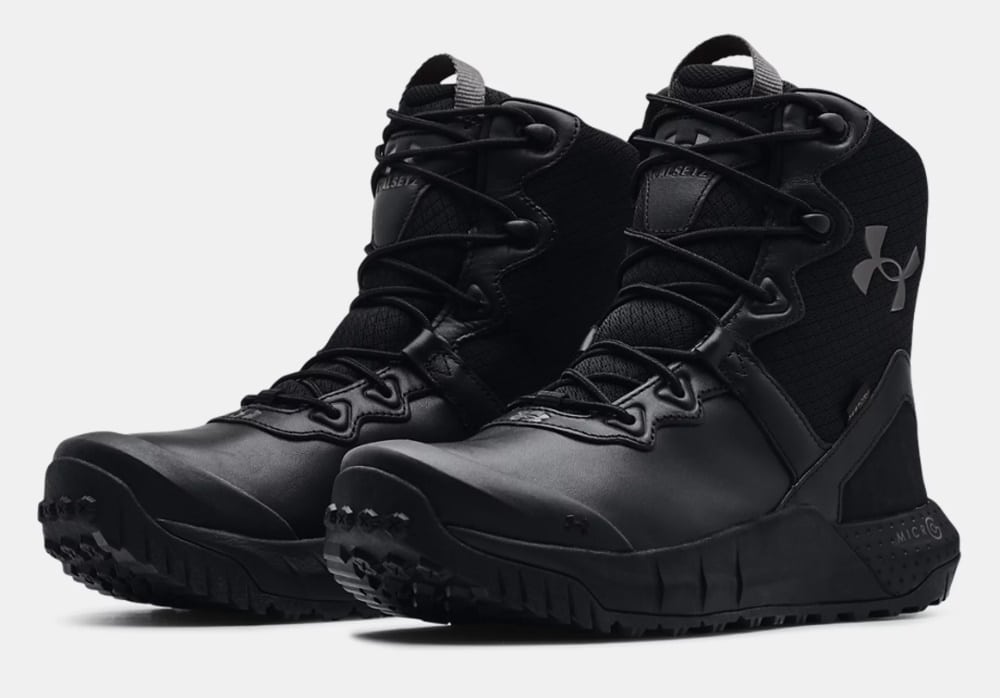 10% Discount on Under Armour Micro G® Valsetz Leather Tactical Boot
Collect your code and use it to save on these new Police Boots.
Under Armour's Valsetz Leather Tactical Boots are designed with care and precision for the Police, Armed Forces and anyone else who appreciates the beauty of combat footwear. From the bottom up, they feature solid rubber soles designed for stability, durable leather uppers, and UA's proprietary Clutchfit technology that offers powerful ankle support at all times.
Microfoam-filled midsoles offer loads of support for explosive take-offs and cushioned landings whenever you need them. In addition, your feet will also benefit from excellent arch support, thanks to the lightweight TPU shank and moulded sock liner.
All these technologies help increase stability, keeping your feet protected from abrasion and injury.
Ideal to wear in all weather, the Under Armour Valsetz are also breathable and waterproof. The leather uppers promise to keep your feet dry and cool no matter what terrains you tackle. Other highlights include a TPU toe cap, lace-up closure, and pull loops for easy on and off.
Key Features
Easy to walk and run in
Excellent arch support
All-terrain soles
Waterproof
Specifications
Brand: Under Armour
Weight: 17.6 ounce
Height: 8 inches
PROS:
Very Comfortable
Great Support
Waterproof throughout
Police Discount available through Under Armour website
CONS:
No side Zip  for quick release
Conclusion – What makes Under Armour Micro G® Valsetz the best police boots for 2022?
These are well made and easy to use which means they keep your feet in good conditon. If you're the kind of police officer that is constantly chasing the criminals then these are for you. Plus an added bonus for these Under Armour Boots is the discount, you can get 10% off using our police discount code.
2. Magnum Strike Force 8.0 Uniform Boots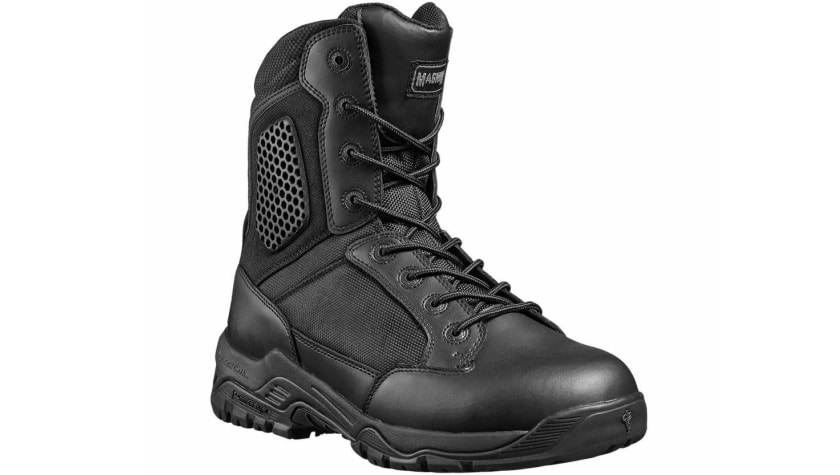 Magnum Strike Force 8. Boots
You can get these from Amazon or the Official Magnum Boots website. If you purchase from Magnum you get 25% discount.
Tactical to the core, the Magnum Strike Force 8.0 Uniform Boots are an excellent choice for Police officers patrolling the city or countryside.
Made from leather and mesh panels, these boots boast a classic design. The lightweight construction ensures all-day comfort, but that's not all. The mid-calf height and padded collar deliver adequate support for your ankles. At the same time, the midsoles are also cushioned, while the rugged outsole provides all-terrain stability and traction.
Talking about outsoles, they're made of SRC Michelin rubber that is slip and oil-resistant for maximum grip. The midsoles and insoles are as performing as the outsoles. Both absorb shocks and impact, increasing comfort and reducing fatigue.
Like Under Armour, these boots are breathable and waterproof. A moisture-wicking membrane lines the interior, keeping your feet at their best and fresh for the whole day.
Key Features
Excellent shock and impact absorption
Zipper closure with YKK side zip
Scanner-safe
Front laces for a custom fit
Specifications
Brand: Magnum
Weight: 21.8 ounces
Height: 8 inches
PROS:
Provides extra impact absorption
Padded upper for extra ankle support
Side Zip closure
CONS:
Slightly more expensive than similiar Boots
Conclusion – What makes Magnum Strike Force 8.0 the best police boots for 2022?
The Magnum Strike force 8.0 are a versatile boot, professional looking and provide that extra support around the ankles. Although the price is slightly higher than similiar boots these are full of features that make wearing boots comfortable and help reduce injury. If you buy directly from Magnum then you can also get 25% police discount.
3. Men's Combat Police Patrol Boots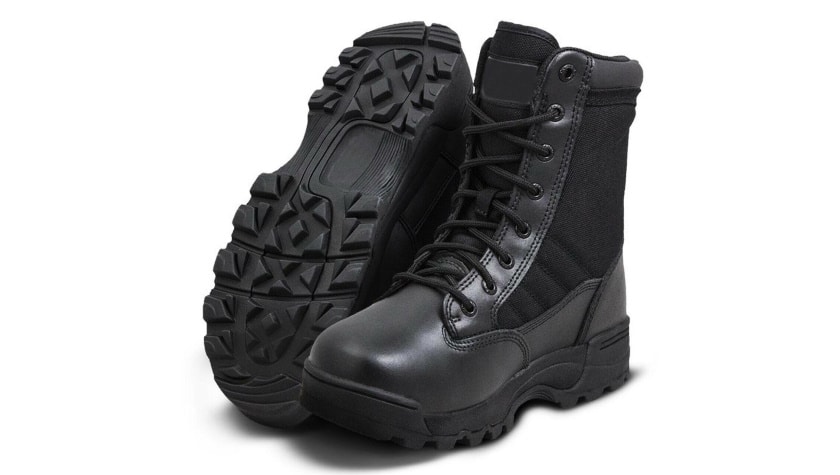 Police Boots at Affordable price
Great boots for people shopping to a budget. Look like magnums but at a fraction of the price!
Inspired by the classic Original S.W.A.T. boots, this unbranded option is an excellent choice for apprentices and trainees. Police officers on a budget may also find these boots more than adequate for their daily needs.
Similar to the Magnum, these Police Patrol Boots have faux leather and durable nylon upper for improved durability and comfort. Side zippers and lace-up closure ensure convenience and comfort – you can use the laces to find the perfect fit and the zipper for easy on and off.
The mid-calf height and padded ankle collar increase stability on all terrains. Moving downwards, we find a moisture-wicking lining and custom fit EVA insoles.
The midsoles are lightweight and designed for cradled support. At the same time, the thick rubber outsoles provide traction and stability on all kinds of surfaces.
Like most unbranded shoes, these combat boots are incredibly affordable. You can choose from black or tan colours.
Key Features
Double lace-up and zipper closure
Breathable
Cushioned support
Gusseted tongue
Specifications
Brand: No brand
Weight: 21.5 ounces
Height: 9 inches
PROS:
Very Affordable price
Zipper closure
CONS:
Budget Unbranded Boots
How long will they last?
Conclusion – What makes Men's Combat Police Patrol Boots the best police boots for 2022?
Great boots for the person on a budget which are styled similar to Magnum Boots.  Although they will last an initial 6 months or so, you probably won't get much more out of them if you're wearing them on a daily basis. For a long term best boots investment go for a more expensive option.
4. Mil-Tec Bundeswehr Mountain Police Boot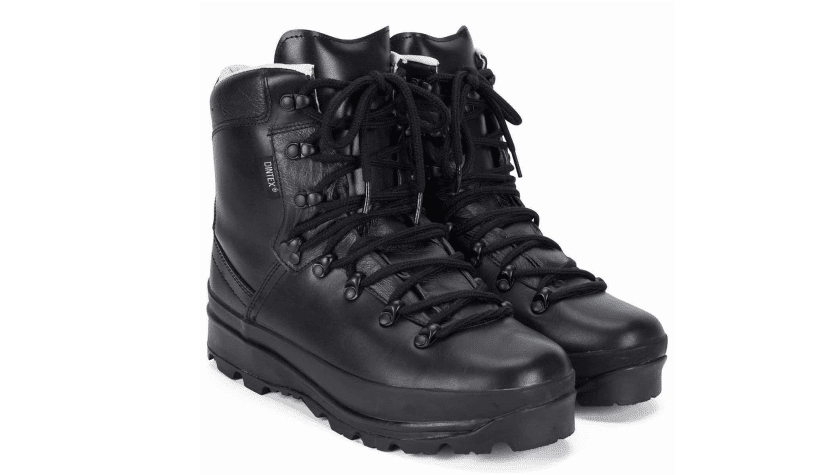 Mil-tec German Army Style Mountain Police Boots
Great boots that will last, look professional and won't break the bank!
It is not often that you come around full-grain leather boots designed to cradle your feet and provide utmost comfort. If that's your goal and you don't mind spending a quid, the Mil-Tec Bundeswehr Mountain Police Boot could be the best police boots for you.
They are not excessively expensive compared to peers like Under Armour and Magnum but aren't as cheap as a non-branded pair either.
Cost considerations aside, these boots are worth every penny. From the bottom up, you're met by sturdy rubber outsoles with thick lug lines designed for grip and traction. Foam midsoles provide improved shock absorption and cushion your feet from impacts.
Extreme comfort is also delivered by the anatomically-shaped POLIYOU insoles. As you'd expect from high-quality combat footwear, the boot is breathable and waterproof. Perhaps the only drawback is the absence of pull loops for easier on and off.
Key Features
Full-grain leather uppers
Reinforced toe cap and heel
Odour-absorbing sock liner
Waterproof and windproof
Specifications
Brand: Mil-Tec
Weight: 31.7 ounces
Height: 8 inches
PROS:
Very Robust
Longlife
Waterproof & Windproof
Extreme comfort
Conclusion – What makes Mil-Tec Bundeswehr Mountain Police Boot the best police boots for 2022?
These are very popular and one of the best selling. This is due to their robust design and they have been built to last. For the price you are getting plenty of boots for your money.
There are as robust as altberg boots, but for only half the price!  If you are in need of Police boots and these are in stock for your size, then these are the best police boots for you.
5. Magnum Panther 8.0 Patrol Boots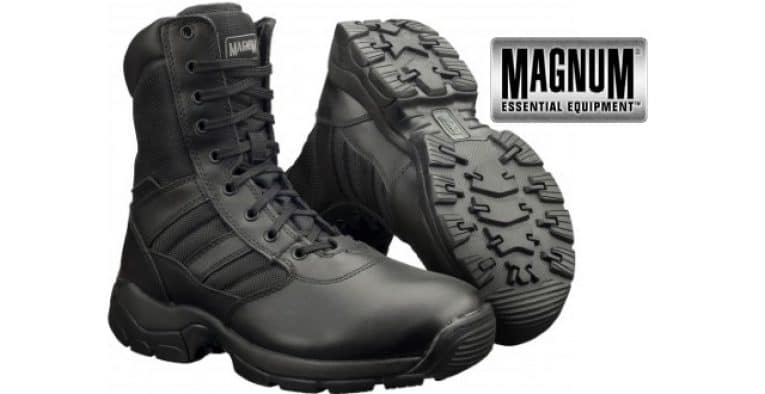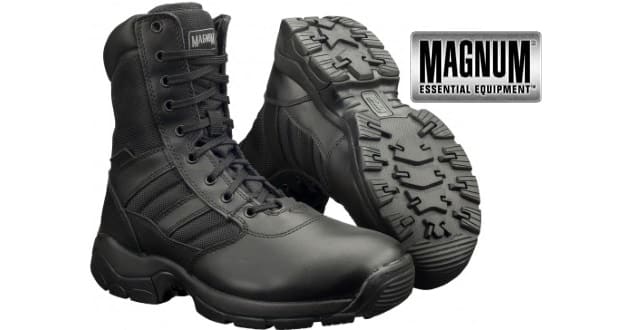 Magnum Panther 8.0 Patrol Boots
Great boot with lots of potential and provide a professional and great look. Plenty of sizes available.
The Magnum Panther 8.0 Patrol Boots are as stealthy as a big cat and built to last. They feature a leather and nylon construction, rubber soles, and lace-up closure. As most tactical boots from Magnum, the Panther are breathable and waterproof.
Their design is sleek and eye-catchy, appealing to gents and ladies alike. The combination of materials makes these boots extremely light.
As you'd expect from Magnum, these boots have a supportive design. A removable contour-moulded insole and padded collar protect both the arch and the ankle. Compression-moulded EVA midsoles provide long-lasting cushioning, while the moisture-wicking interior keeps your feet dry and cool regardless of the weather.
These boots also feature anti-fraying stitching, while the rugged outsoles ensure superb grip. Comfortable and durable, they're an excellent choice at a fantastic price point.
If you purchase these boots direct from Magnum then you also get their Magnum Boots Warranty which is an added bonus. This means that if the boots fail you then they will replace them hassle free.
Key Features
Modern, slim-line design
Slip and oil-resistant
Waterproof leather
Lace-up
Specifications
Brand: Magnum
Weight: 26.24 ounces
Height: 8 inches
PROS:
Standard Modern Magnum Boots
Unisex Boots
CONS:
No Zipper option
Unisex – Might not fit the wider foot
Conclusion – What makes Magnum Panther 8.0 Patrol Boots the best police boots for 2022?
These patrol boots have been around for a while and continue to be popular with police officers all over the UK. Even though there is no zipper side option, these boots will last and look professional. Another reason why these are great is they are unisex and will fit both male and female officers, but at the same time if you are someone who has wider feet then you shoud probably look at Magnum Force 8.0.
6. Savage Island Lace-Up Police Boots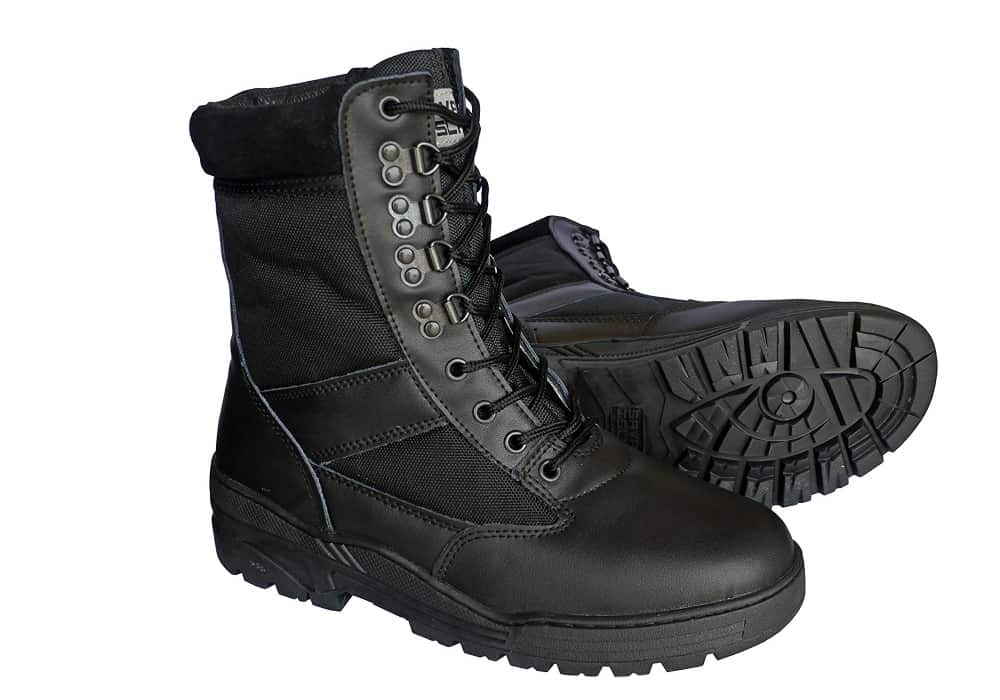 Black Leather Army Patrol Combat Boots Tactical
These are comfortable, professional looking and keep your feet secure whilst on duty.
Newly enrolled police officers and police cadets looking for tactical footwear on a budget might also like these lace-up boots by Savage Island. Featuring a no-frills design but durable construction, they provide a comfortable fit from the moment you slip them on for the first time.
They're made from a full leather upper with a padded collar around the ankle. The lace-up closure comes with advantages, allowing you to find the perfect fit no matter how thick your socks are – you can wear these boots in summer or winter while still keeping your feet fresh and cool.
The soles are designed for support and traction. From inside out, these boots have a moisture-wicking liner and EVA midsoles that provide cushioning.
The outsoles are made of PU rubber and have rugged lugs for improved traction. These boots also have a steel shank designed to increase comfort and reduce fatigue. They might not have a toe cap, but overall, they are reliable and long-lasting.
Key Features
Genuine leather uppers
Suede ankle collar
Hard-wearing, oil-resistant outsoles
Waterproof
Specification
Brand: Savage Island
Weight: 27.16 ounces
Height: 8 inches
PROS:
Affordable
Great comfort for the price
Full leather upper
CONS:
Better options available
option for toe cap available
Conclusion – What makes Magnum Panther 8.0 Patrol Boots the best police boots for 2022?
These police boots are for the person on a budget. They are one of the cheaper pairs of boos available and can be found from loads of different sellers on amazon and ebay. Therefore if you do decide on these make sure you shop around to find the best deal. You can also check out our review page of the boots as we have up to date prices on all our boots.