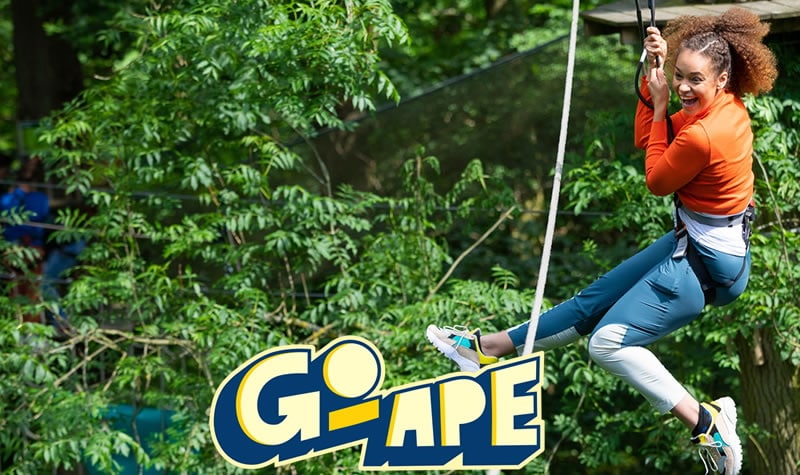 Go Ape Police Discount

15% DISCOUNT CODE
Get 15% Off using our discount code - POLICEDISAPE23 . Loads of locations available today!
Offer valid on all activities until December 31st 2023 at all Go Ape locations, excludes Saturday, Corporate Events and gift vouchers. Discount must be entered at the time of booking. Participation and supervision ratios apply – please see our website for more information and opening hours.
Police Officers, Staff, Families and all our members can get great deals when booking online. 
Why choose Go Ape Police Discount?
Police officers have one of the most challenging and demanding jobs in the world. They often work long hours, and their shifts can be unpredictable. That's why it's important for police officers to take time off to relax and recharge.
And what better way to do that than by spending a day out at Go Ape? Thanks to our police discount, officers can enjoy a day of adventure without breaking the bank.
They offer a range of courses and activities that are perfect for anyone who loves the outdoors. And we've got a special discount just for you! Just use our promo code to get 15% off your booking.
So what are you waiting for? Get out there and have some fun!
What is GO APE?
Go Ape is a UK-based company that offers outdoor adventure experiences. Their activities include zip-lining, treetop climbing, and forest Segwaying, and they have locations all over the country. Their mission is to encourage people to get outside and explore the natural world, and they offer a variety of prices and package options to suit every budget. Whether you're looking for a fun day out with friends or a longer adventure vacation, Go Ape has something to offer.
FAQ'S for GO APE wth Police Discount
Where is go ape?
They are a UK-based company that operates forest adventure parks across the country. There are currently 22 Go Ape centres in the UK, spanning from London to Edinburgh. So depending on where you're based, there is likely to be a Go Ape centre near you!
If you're looking for a exhilarating day out, Go Ape is the perfect place to visit. They offer a range of activities including zip line courses, aerial tree trekking and climbing adventures. No matter what your fitness level or age, there's something for everyone at Go Ape.
How much is go ape?
Prices vary depending on location, but typically starts at £25 for adults and £20 for children. There are also discounts for groups and families.
We are very fortunate to ave been given a go ape police community discount of 15% when you use the code online.
There is only one restriction and that is the discount is unavailable on any Saturday booking. All other days will allow the discount.
What to wear to go ape?
When the weather is sunny, the answer is simple – shorts and t-shirt will do just fine! You won't need to pack your Police Boots!
However, prepare for the worst by packing an entire wardrobe. When there are grey clouds in the sky, anything could happen: you might get light drizzle or a downpour; there is always chance that your clothes will become drenched in water and dirty from being out all day long without washing them first!
Just remember not to pack too many items if possible since space becomes limited when carrying around lots more than necessary during wet weather conditions.
How long does go ape take?
The activities offered by Go Ape include zip lining, rope swings, and climbing through the treetops. Depending on which activities you choose to do, your experience at Go Ape will take anywhere from 1-3 hours.
Once you're finished swinging through the trees like Tarzan, you'll be sure to have worked up an appetite! Luckily, there are often food vendors located near the Go Ape centres.
So go ape and quickly become a full day out if you plan right!
ALL POLICE GO APE OFFERS

15% DISCOUNT CODE
Get 15% Off using our discount code - POLICEDISAPE23 . Loads of locations available today!