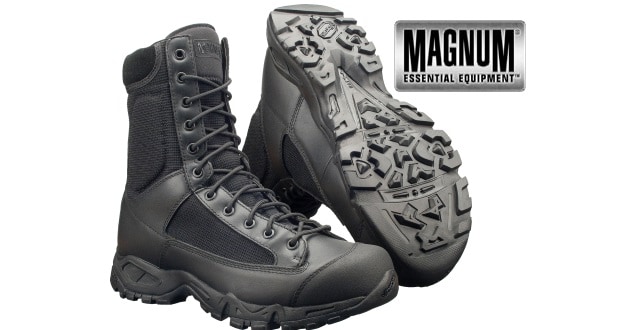 Last Updated on by Steve Jones
BRAND NEW CLASSIC POLICE TAC SPEC MAGNUM BOOT
There is currently up to 33% DISCOUNT on these great MAGNUM BOOTS at AMAZON. You get FREE DELIVERY and they also have next day delivery on most orders.
The Police Patrol Boot is one of the best around, it has a professional look and a tough sturdy feel to them. This MAGNUM BOOT  has leather upper and a rubber sole designed to reduce slips, trips and falls! They are lightweight and durable and have full grain leather with ballistic breathable mesh.
Inside it has tuff leather toe guard and foam ankle roll pads for added protection giving the most comfortable feel when wearing the boot for prolonged periods of time. The MAGNUM BOOT is full lace up with lace-to-toe design for precise fitting.
If your looking for a MAGNUM Police Boot that will last during all conditions and environments then this is the one for you. With amazing comfort, great design and feel, you will won't be disappointed with your purchase.