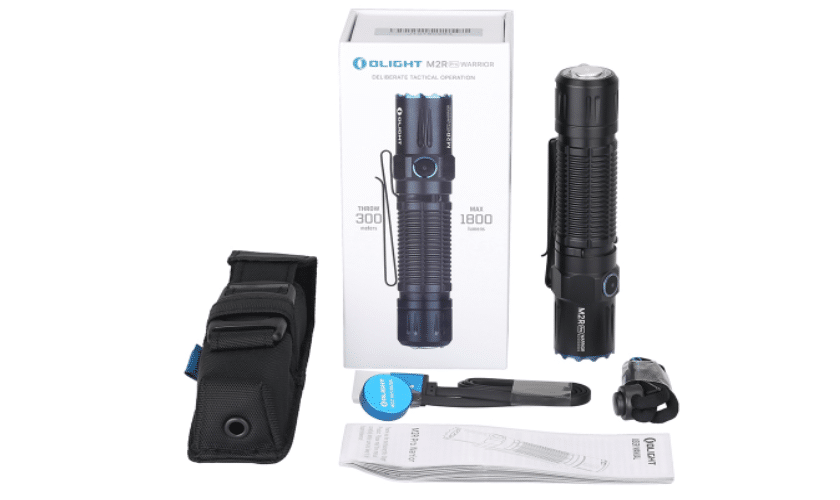 M2R PRO Warrior Torch
Super powerful and very well built. This is ideal for police and security, plus it comes with very sturdy belt holster. Use the discount code below to save.
USE OUR DISCOUNT CODE – DISCOUNT15% – TO SAVE 15%
LATEST OLIGHT POLICE TORCH – M2R PRO WARRIOR
Looking for a new police torch for work? Well, I have just received my latest edition torch from the Olight. Today I am checking out the M2R Pro Warrior Tactical Police Torch.
This torch is bigger than the Warrior mini and is also packed full of extra features.
How Bright is the M2R Pro Warrior?
The first thing I do whenever I get a new torch is to test it at night. So when it got dark I ventured out to test drive the new light! And what a suprise I had….
This new M2R PRO WARRIOR was very powerful indeed. Please take a look at the photos I took using the torch to see the effect.
The torch is operated by the tail switch located on the rear. You can light press the button once for a low light and full press on the tail switch will give you full power. Take a look at the table below for the full specifications:
| MODE | BRIGHTNESS |
| --- | --- |
| Moonlight | 1 Lumen 50 days |
| Low | 15 Lumens for 130 hours |
| Medium | 250 lumens for 10 hours |
| High | 750 Lumens for 160 mins |
| Turbo | 1800 Lumens for 5 mins / 750 Lumens for 145 mins / 250 Lumens for 45 mins |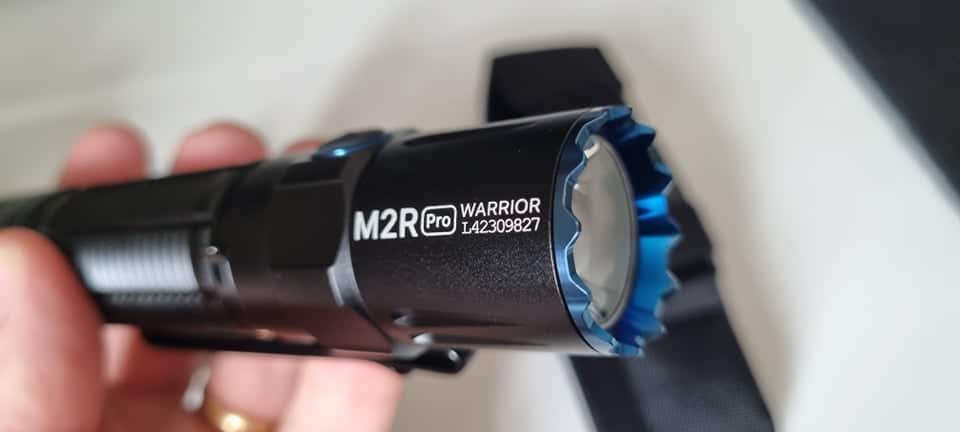 Is the M2R PRO WARRIOR any good?
As I said I took the Police torch out for a night test and was impressed with its performance. The Turbo mode is activated on the tail switch and provides 1800 lumens, which is projected over 300 metres! That is 3 football pitches in length.
Turbo allows 5 mins at this performance and then automatically switches to the lower brightness of 750 lumens. This allows you to still have really good light, but maximises the time which the torch can be operated.
When working in the police/security you could be at a scene where you need light for longer periods, therefore you could switch the M2R PRO WARRIOR to a lower setting allowing you to us it for longer.
M2R PRO WARRIOR comes with a water rating of IX8 – Which means it can withstand continuous immersion in water. This is a good feature as it means that it is fairly waterproof and unless you're trying to using it continuously underwater then you might run into some problems! It should withstand any rain or water you may encounter in your daily work routine.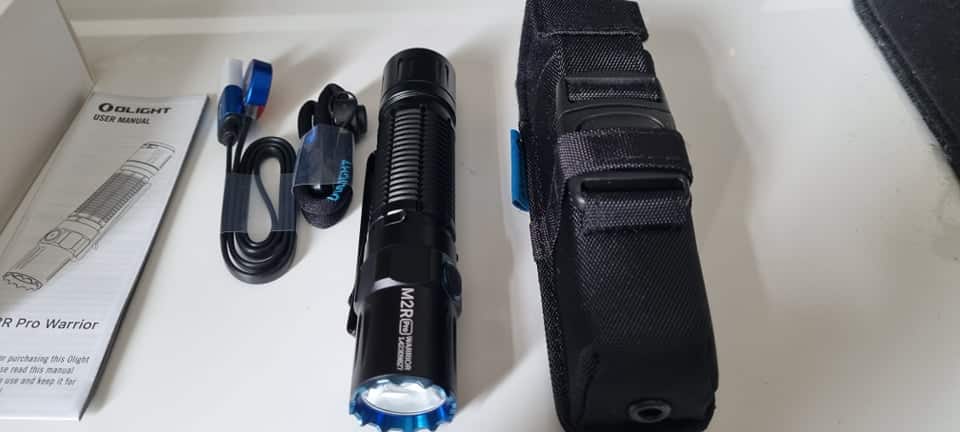 How do you charge the M2R PRO WARRIOR?
This torch is powerful! Which means it comes with a great battery, a 5000Mah lithium battery, which is why you get these strong lumens of 1800 over 300 metres!
Like all new Olight Torches you charge it using the very clever magnetic tail switch, which can be plugged into any USB charger.
I know that lots of new police vehicles come with USB charging ports, allowing these OLIGHT torches to be charge on the go!
Storage of the M2R PRO WARRIOR
One really awesome feature I like about this particular model is that it comes with its own unique belt holder pouch. The belt pouch is made from tough black material with a clip cover, which secures the torch in place.
Quite often you find a great torch, but without a holster which fits. Well this M2R PRO WARRIOR provides you with the holster and it's included in the price.
The pouch/holster will attach to the police utility belt, chest rig or you can clip it to any of the molle systems using the popper attachment on the back of the holster.
Standout Features of the M2R PRO WARRIOR
Awesome Performance 1800 Lumens over 300 metres
Crenelated Strike bezel – for emergency window breaks etc.
Slim design
Detachable pocket clip, which allows carry in both directions
Comes with Specific Torch Holster
EASY charge with magnetic USB charge system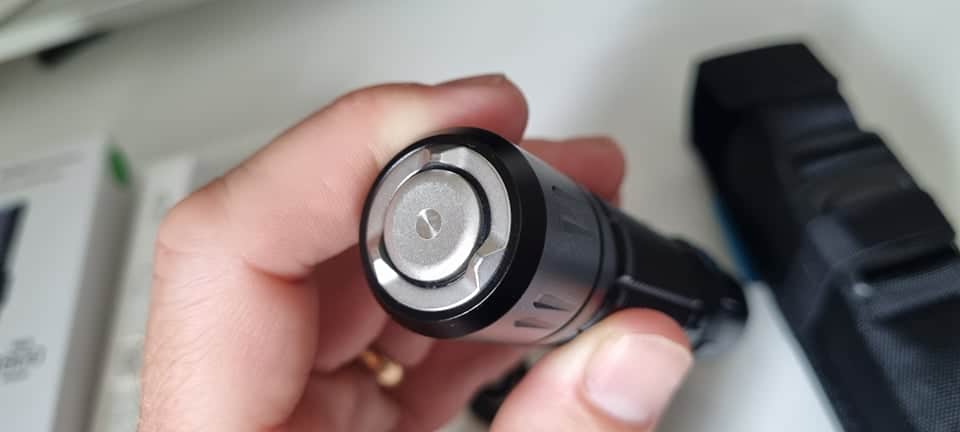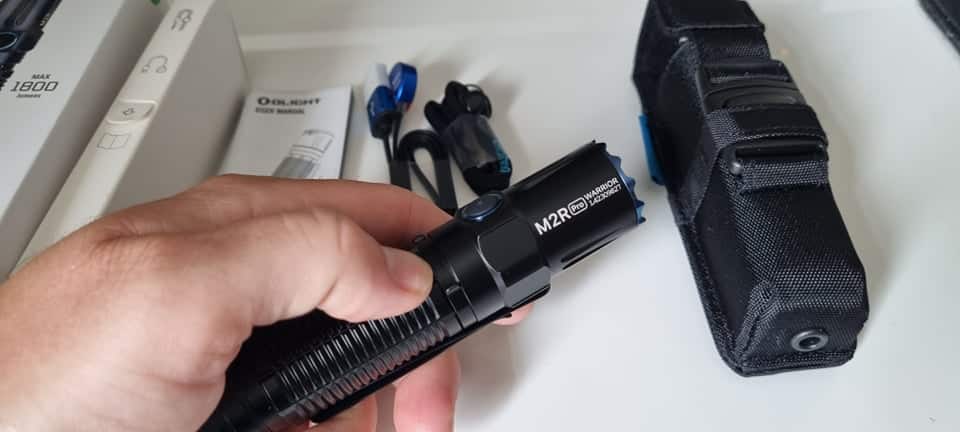 Conclusion
It seems Olight do keep getting better with regard to production of Police Torches. This torch is well built and feels very professional. This model is more powerful than the OLIGHT WARRIOR MINI and lasts longer.
It is an ideal torch for police and security. It has a slim design and comes with its own holster, which allows for easy access when attached to a police/security belt or chest rig.
With the USB charging magnetic tail switch, it means you can charge the torch one the go. Whether you're in a police/security vehicle or have access to a charging power bank.
Plus remember that all OLIGHT torches come with a MASSIVE 5 YEAR WARRANTY!
If you need to upgrade your torch or fancy a new one, then you won't be disappointed with the MR2 PRO WARRIOR.
The best time to buy would be during one of Olights regular sale events! You could save quite a bit……

45% Discount M2R PRO Warrior Torch
Super powerful and very well built. This is ideal for police and security, plus it comes with very sturdy belt holster.