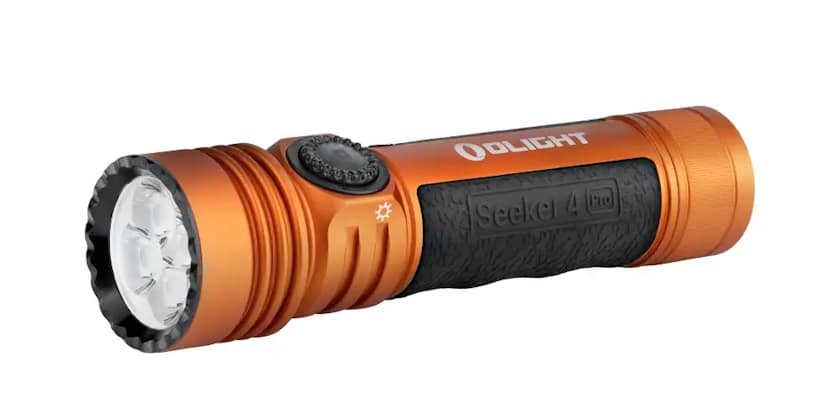 A Review of the Olight Seeker 4 Pro
In a world increasingly defined by its reliance on technology and innovation, it's easy to overlook the simple yet indispensable tools that make a significant impact on our daily lives. One such tool is the flashlight or torch, and the Olight Seeker 4 Pro is here to redefine what we expect from this humble device. With a blinding 4600 lumens on turbo mode and a sleek design, the Seeker 4 Pro is more than just a flashlight; it's a beacon of ingenuity and practicality.

15% Discount on Olight Seeker 4 Pro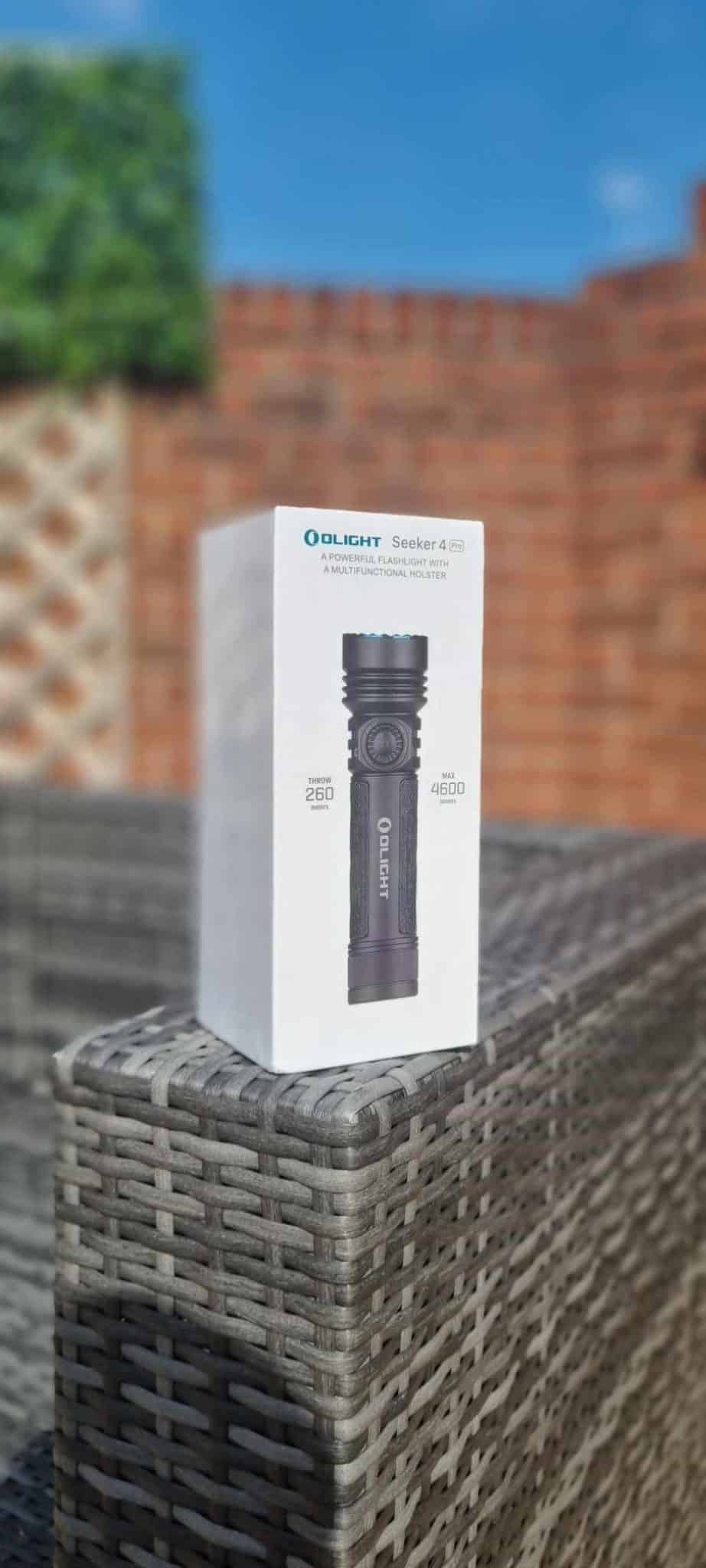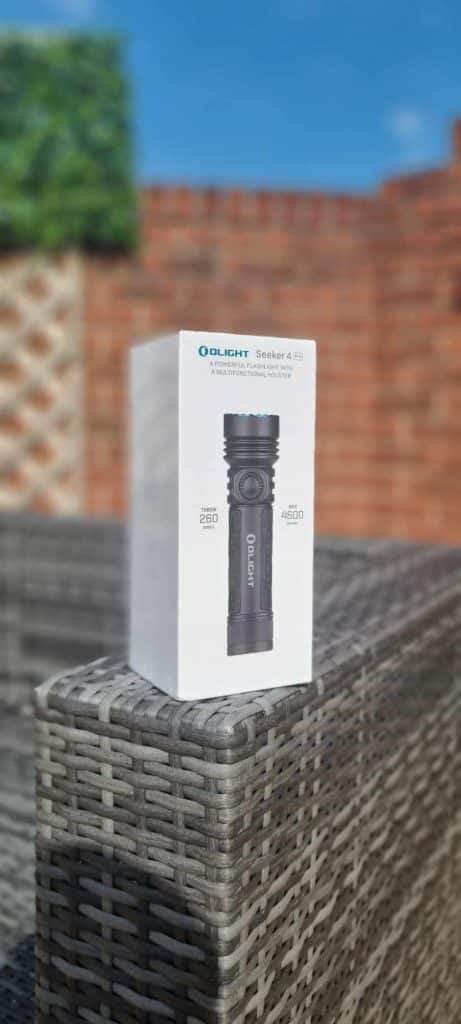 Lighting the Way: A Glimpse into the Lumens
At the heart of the Olight Seeker 4 Pro is its impressive 4600 lumens output on turbo mode. This level of illumination is nothing short of extraordinary and is bound to leave anyone who experiences it in awe. Whether you're in a pitch-black forest, a dimly lit attic, or simply need to find your way during a power outage, the Seeker 4 Pro has you covered. Its high-intensity beam reaches far and wide, turning the darkest corners into well-lit spaces.
Police Discount on the Olight Seeker Pro 4
So have olight provided a discount for this torch? Well as it's a new product Olight have provided an initial 40% discount for everyone to enjoy. This is a limited timed offer and will end soon. If you are after a god deal then check out our main Olight Police Discount page for exclusive 15% discount on Olight torces.
Versatile Lighting Modes
One of the standout features of the Seeker 4 Pro is its versatility when it comes to lighting modes. In addition to turbo mode, it offers a range of options to suit various situations. There are three brightness levels to choose from, allowing you to conserve battery when needed or adjust the light intensity to your specific needs.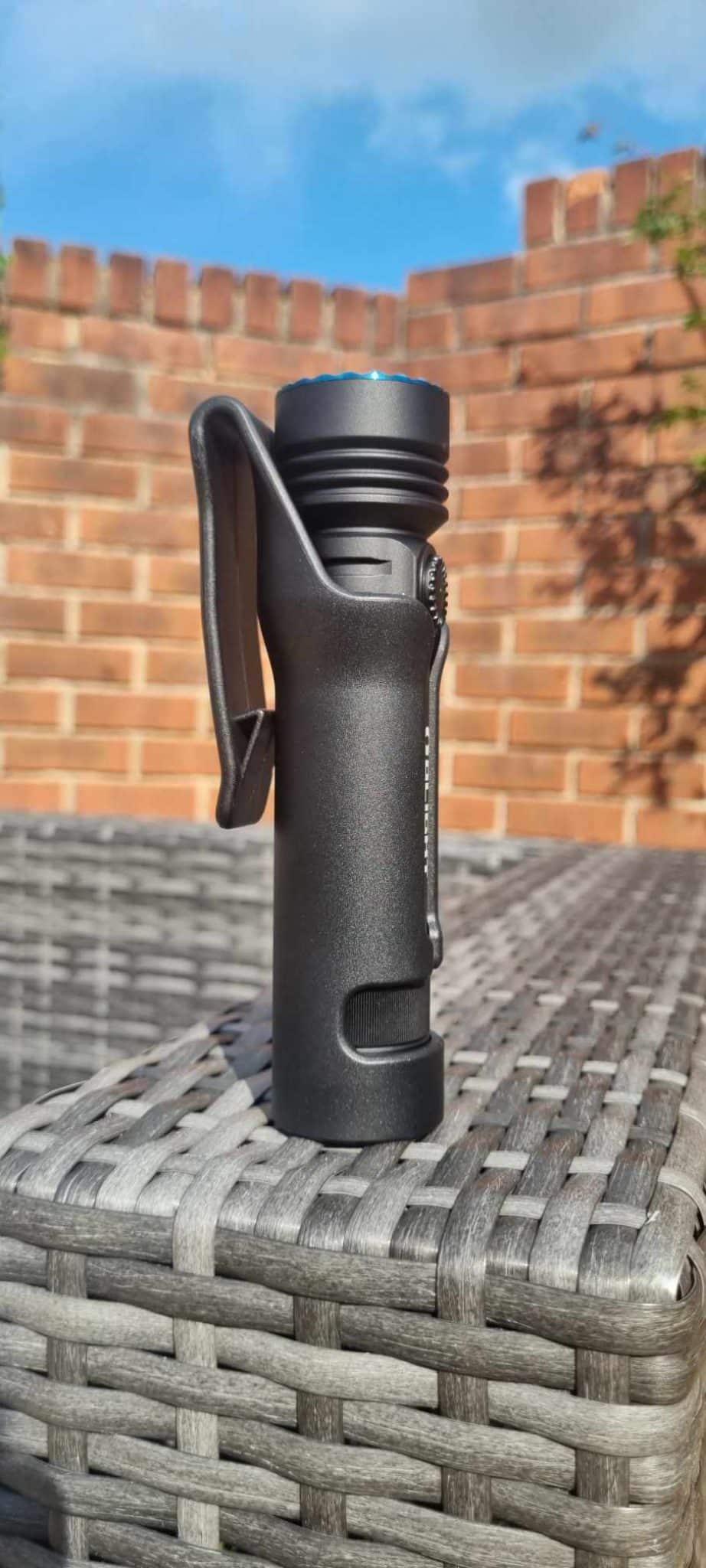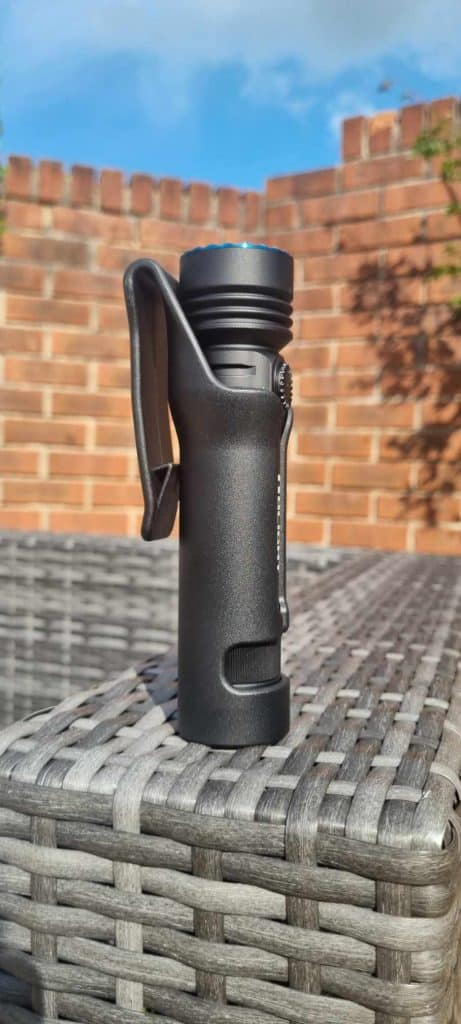 Form Meets Function: Design and Build Quality
The Seeker 4 Pro doesn't just excel in terms of illumination; its design and build quality are equally impressive. It boasts a robust aluminum body with a textured grip, ensuring durability and a comfortable hold even in adverse conditions. The torch's matte black finish not only adds a touch of elegance but also reduces the chance of light reflecting off the surface, making it ideal for tactical use.
Easy and Convenient Charging
The charging system of the Olight Seeker 4 Pro is a brilliant blend of convenience and innovation. To replenish its power, you simply place the torch into the specially designed belt holder. This belt holder is not just a passive accessory but a crucial part of the charging process.
Once the torch is snugly nestled within the holder, it can be easily plugged into a charging port. What makes this system even more user-friendly is the inclusion of a small, but ingeniously useful, wall clip.
This clip can be attached to any wall, providing a secure and convenient place to hang the belt holster while charging. This thoughtful design ensures that the Seeker 4 Pro is always ready to light up your path whenever you need it, without any hassle or fuss.
In addition to the holster charging option, the Olight Seeker 4 Pro offers a versatile charging solution through its magnetic charging feature, conveniently located at the end of the torch. This magnetic charging system allows you to charge the torch without removing it from its holster. Simply connect the magnetic charger to the designated port at the tail end of the Seeker 4 Pro, and the magnetic connection ensures a secure attachment.
This dual-charging capability provides you with flexibility and convenience. This allows you to recharge the torch in a way that suits your preference or the circumstances at hand. Whether you opt for the holster charging while on the move or the magnetic charging for quick and easy recharging.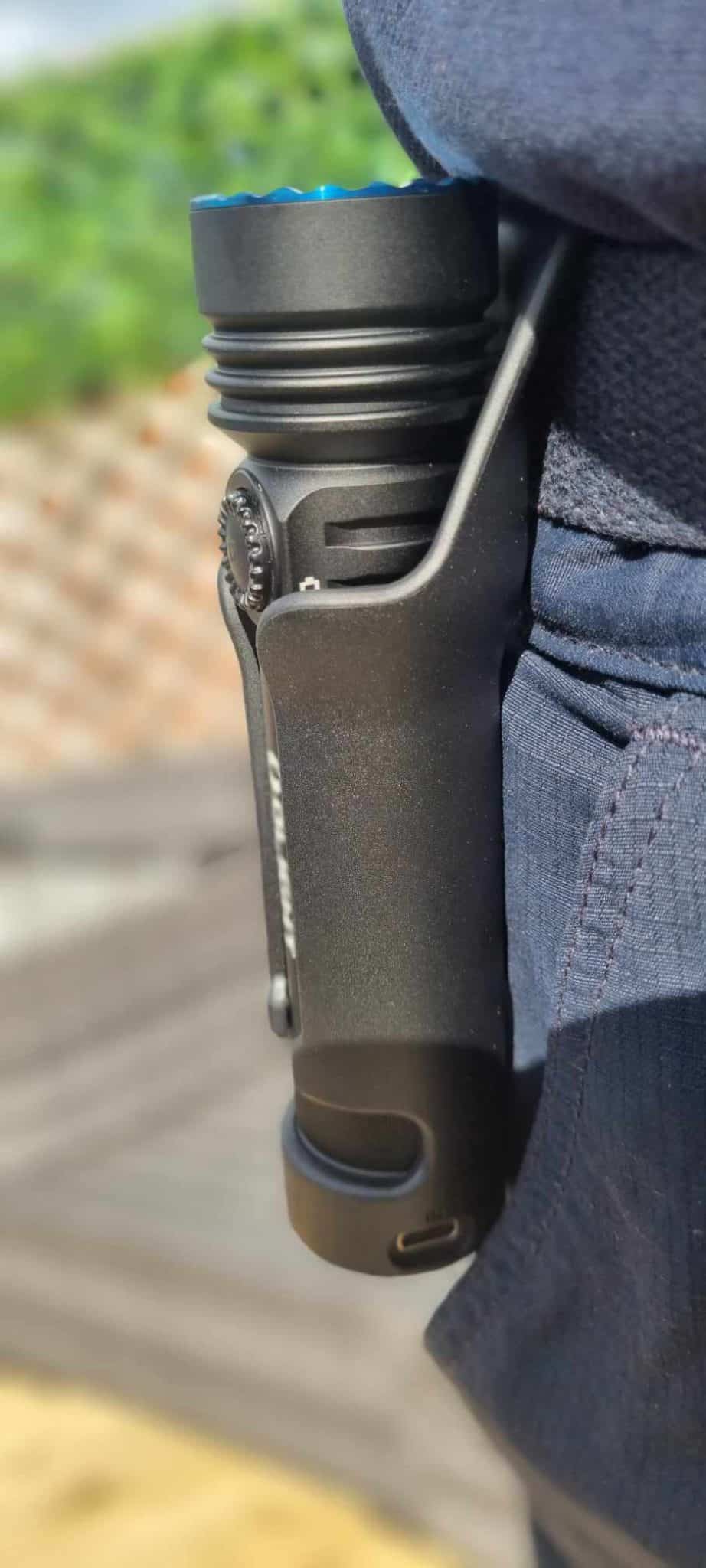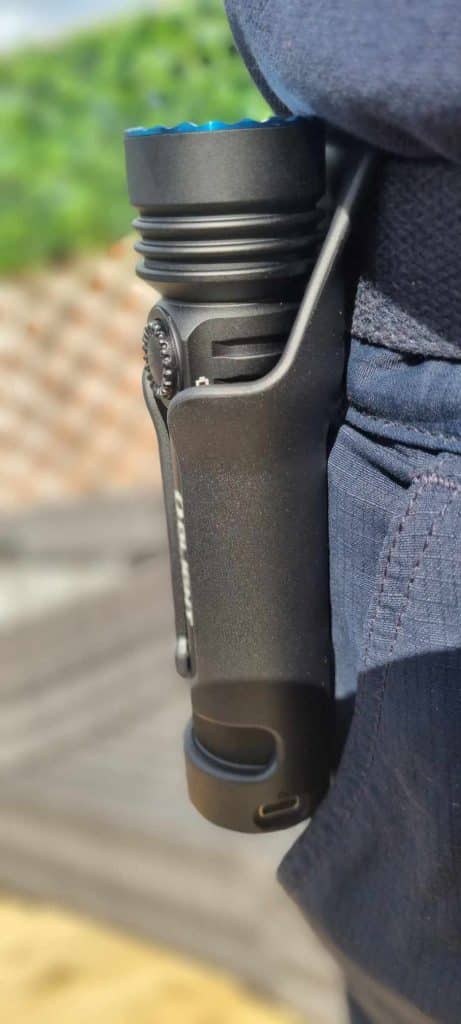 User-Friendly Interface
The Olight Seeker 4 Pro offers user-friendly brightness adjustment through a simple and intuitive mechanism. Located on the side of the torch is a small plastic wheel that allows you to seamlessly adjust the brightness to your desired level. By turning this wheel clockwise, you can increase the brightness, making the surroundings significantly brighter.
Conversely, turning it counterclockwise dims the light, perfect for preserving battery life or adjusting the illumination to your specific needs. An additional feature that enhances the user experience is the green indicator lights.
These lights serve as a visual guide, clearly displaying the current brightness level of the torch, ensuring that you always have full control over the Seeker 4 Pro's luminous output, making it adaptable to any situation.  The switch also features a battery indicator, so you'll always know when it's time to recharge.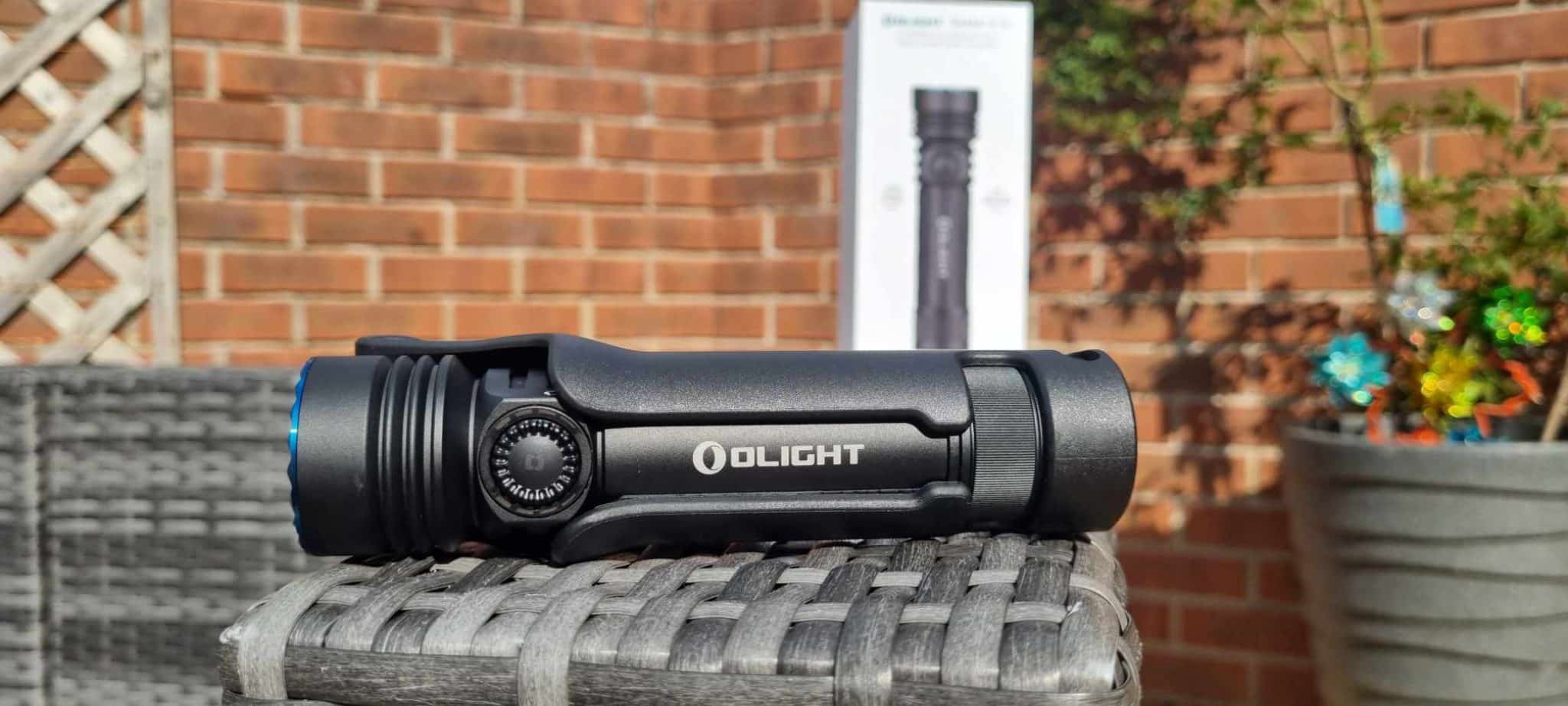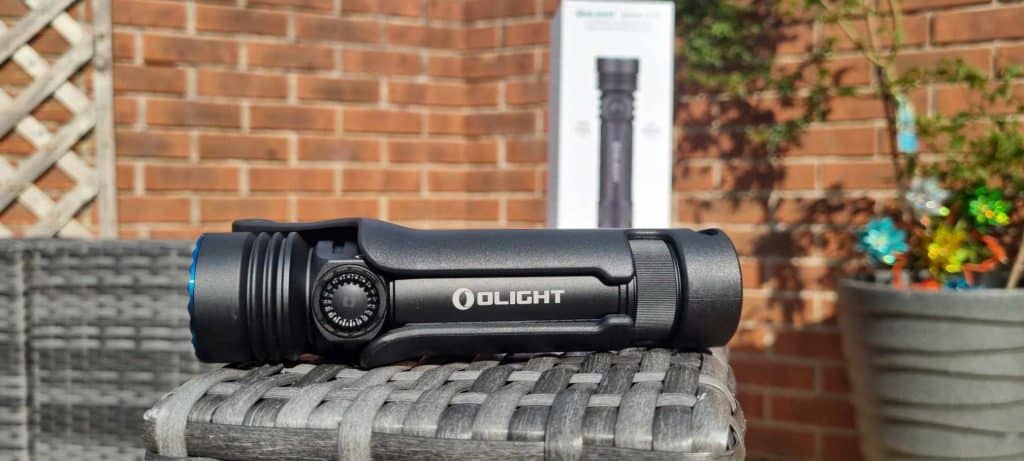 How bright is the Olight Seeker Pro 4 ?
| MODE | BRIGHTNESS |
| --- | --- |
| Moonlight | 5 Lumen 15 days |
| Low | 50 Lumens for 60 hours |
| Medium | 300lumens for 11 hours |
| High | 1200 Lumens for 135 mins |
| Turbo | 4600 Lumens for 2.5 mins / 1200 Lumens for 122 mins |
Contents of the Box:
Seeker Pro 4 Torch
USB Charging Cable
Vertical Holster
Holster Fixing Bracket
Plastic Expansion screws for bracket
User manual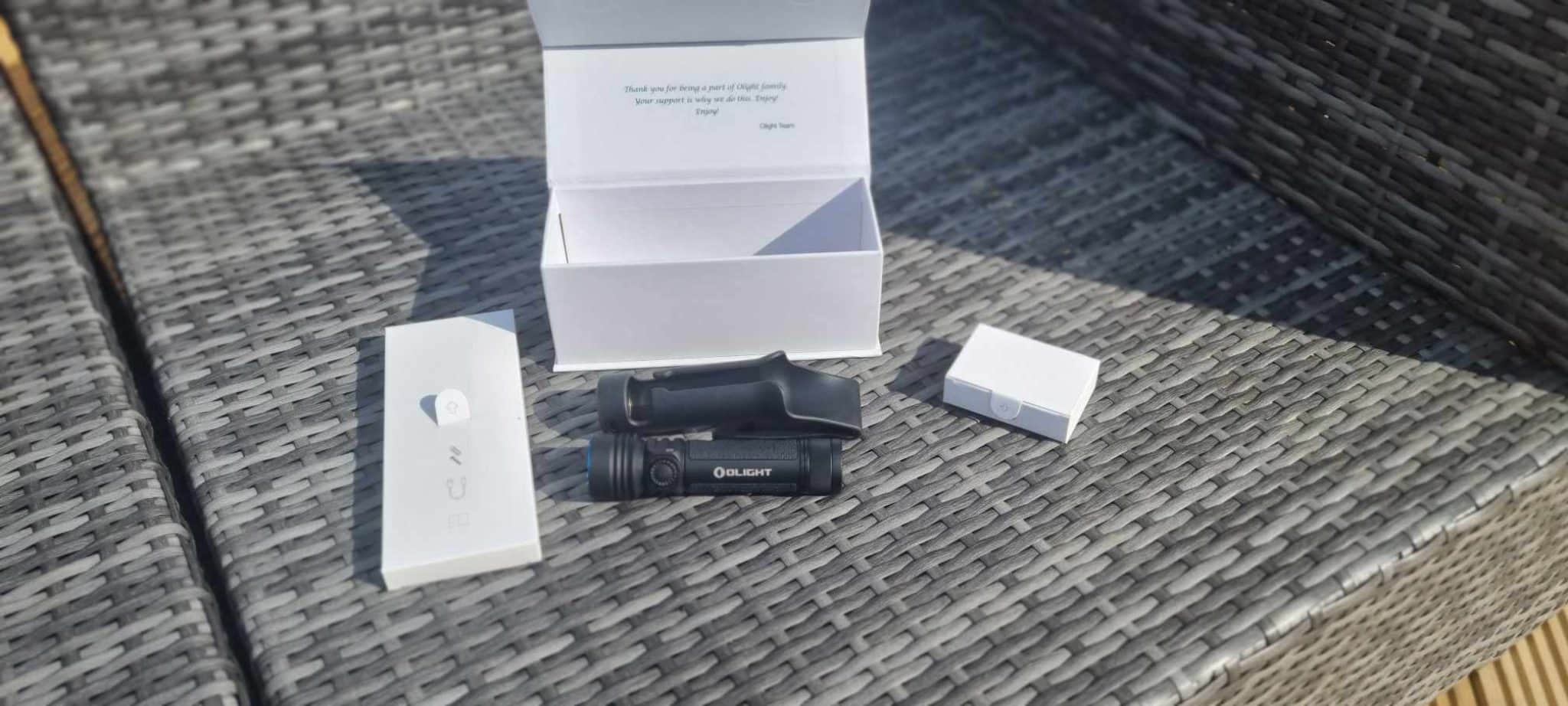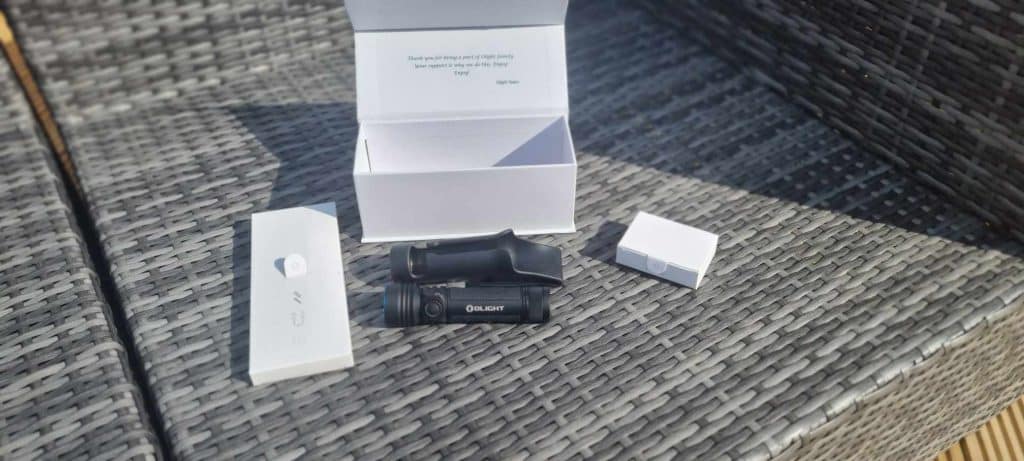 Olight Seeker 4 Pro has a huge £42 discount on its release.
Conclusion: Lighting the Path Ahead
In a world where technological advancements often take center stage, the Olight Seeker 4 Pro reminds us of the importance of the simple yet indispensable tools we use every day. With its blinding 4600 lumens, versatile lighting modes, robust build quality, and innovative charging system, this flashlight is a game-changer.
Whether you're an outdoor enthusiast, a police officer, or simply looking for a dependable flashlight for everyday use, the Olight Seeker 4 Pro deserves your attention. It's a shining example of how a well-thought-out design and cutting-edge technology can elevate an everyday tool to new heights. Illuminate your world with the Seeker 4 Pro and experience a new level of clarity in the darkness.